Podcast: Download (Duration: 12:04 — 16.6MB)
In Part II of our "Another Way BPA" series, David Madore continues his conversation with Terry Constance and Washington State Representative for District 18, Ed Orcutt, (R – Kalama), about two different alternative routes that the Bonneville Power Administration could consider for its proposed 500 KV power line from Castle Rock, Wash. south into Oregon.
One route, called the "Pearl line," is one BPA has considered in the past, but inexplicably removed from its most current maps. It would stretch from Castle Rock, Wash. to Wilsonville, Ore., crossing over the Columbia River at Camas.
Constance and Orcutt consider the Pearl a viable route, but say the BPA never released a study on the line to explain why it is no longer being considered.
Madore asks how well the BPA has honored the intent of the National Environmental Policy Act (NEPA). He says the legislation is in place to ensure not only community input, but that the wishes and ideas of citizens actually help direct planners in their decisions.
Constance says it took a letter from Washington congresswoman Jaime Herrera Beutler, (R – Camas) to prompt the BPA to look at an alternative route he is calling the "gray line."  It would run along the eastern edge of Clark County in what is primarily state and federally-owned forest land.
Constance and several volunteers have spent hours in the field marking coordinates and shaping the route so that it would have zero impact on people.  Because the gray line would run through publicly-owned land, it promises to be a cheaper alternative than options that send the lines over private property. The gray route presents less impact, and lessens the likelihood of litigation.
Orcutt and Constance say that either the Pearl or Gray lines are acceptable alternatives to the current routes BPA is considering. They would like to see both included in the BPA's draft environmental impact statement on the project, due in December 2011.
Coming Saturday – Part III, "Snap, crackle, and pop: the realities of placing electromagnetic force close to homes and businesses."
Credits
A COUV.COM Production.
Video shot by Ed Stortro and Scott Thompson
Video edited by Ed Stortro & Jordan Thompson
---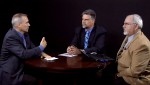 View our part one of this series of interviews with Terry Constance of Another Way BPA and Rep. Ed Orcutt (September 15, 2011): Clark County Today – BPA, Another Way