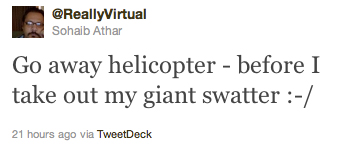 When Sohaib Athar heard a helicopter hovering above his home in Abbottabad, Pakistan, he knew something unusual was about to happen.
The 33-year-old IT consultant got on Twitter and jokingly threatened to take out a "giant swatter" if the choppers didn't leave.
Little did he know, his take on events would turn out to be a live blog of the U.S. raid on Osama Bin Laden's compound.
Athar, who goes by the handle @ReallyVirtual, moved to usually-quiet Abbottabad to take a "break from the rat race," according to his Twitter profile. He might have escaped the city, but the move definitely has put him in the limelight.
Major news outlets around the world have reportedly been trying to get in touch with the man. He even had to create a custom e-mail filter to sift through thousands of notifications that people started following him on Twitter.
To read the full story, visit CBCNews.