Podcast: Download (Duration: 31:06 — 42.7MB)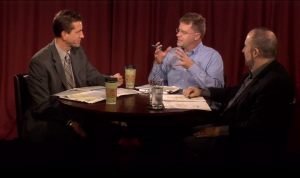 In the studios of COUV.COM Scott Roberts, Glen Morgan and Steve Buckstein had a round table discussion relating to the major initiatives on the Washington and Oregon state ballots.
Scott Roberts, the Citizen Action Network Director at the Freedom Foundation, was a small business owner and gained first-hand knowledge of how government works.  That experience drew him into politics for the last 10 years. Looking to the future Scott would like to help "equip citizens who are motivated to take action and make substantial change in their communities."
Joining Scott from the Freedom Foundation, Glen Morgan is the Property Rights Director and Project Manager for Stop Taking Our Property (S.T.O.P.) Thurston County. He enjoys "organizing town halls, door-belling, and interacting with all levels of government and local organizations to ensure the protection of the critical individual right to own property."
Representing the Cascade Policy Institute, Senior Policy Analyst, Steve Buckstein "writes and speaks in Oregon and nationally on several policy issues including education and Social Security reform.  During the 1990 general election, Steve coordinated the campaign for a citizens' initiative which would have provided educational tax credits to every student in Oregon so they could choose public, private, religious or home schooling."
The three of them sat down and explored the various initiatives and their ramifications.  For Oregon voters Initiatives 80 (legalization of marijuana), 84 (Phase out estate and inheritance taxes), 85 (Re-allocates corporate income/excise tax – kicker refund) appear to hold the most interest to voters.  Initiative 1195 (taxes), 502 (Legalize Marijuana), 1240 (Charter Schools), and referendum 74 (legalize same-sex marriage) are at the top of the list in Washington.
To learn more about these ballot measures take the time to listen in on what they had to say. Additional information can be found at the links below.
Oregon State 2012 Ballot Measures
Washington State 2012 Ballot Measures