Podcast: Download (Duration: 33:06 — 22.7MB)
"I tell my kids over and over, but they don't listen."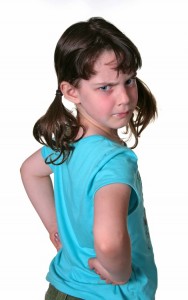 This is what parents say all the time when they come to see Diane Moore at her private counseling practice in Vancouver. But parents don't have to repeat themselves three and four times to get their kids to obey. In fact, Diane, who is an author and family life counselor, says that when parents say something for a second time they make themselves weak. She suggests that they follow a simple 3-step process that works for kids of any age.
Step one is a statement, "It is now time to turn off the TV." The parent's tone of voice should be kind, not angry.
Step two is always a question meant to give the child a choice. For instance, "Are you going to turn off the TV, or would you like me to?" Children learn that if the parent turns off the TV it stays off for 24 hours.
The secret to step two is that parents need to not care what the child chooses.
Step three is action. Whatever the child chooses happens.
How do parents enforce step three? Diane says "Nothing good happens." Privileges can be taken away like TV, video games, etc. Place the problem in the child's lap by saying, "My best didn't work so you come up with a solution." It's especially effective right before the parent is going to do something for the child like take them somewhere. There has to be a balance between what children get and how children handle responsibility.
If the steps aren't working, the statement may not be clear and concise in step one. Or in step two, the parent may need to alter the choice, and ask themselves whether or not they are conveying the message that they care about what the child chooses.
It's best for children to learn to respect their parent's whisper. Parents hold a very important role with how the child interfaces, listens and connects to their parents. This impacts all the relationships the child has in life.
When parents misinterpret or misunderstand what healthy authority is, or are lenient when children are obeying, it leads to power struggles. 
CREDITS
Audio produced by Naylene Frunk


---
Did you enjoy the program? Leave a comment, suggest a topic you want Diane to talk about, or ask Diane a question. Your comment enters you to win her book, Parenting the Heart of Your Child. We'll pick a random winner after we have five comments and post the winner as a comment of our own, so keep checking back.
Parent Talk is going live soon. Do you want to be one of the first to know when? Email us at ParentTalk@couv.com, and we'll send you Parent Talk Live updates.