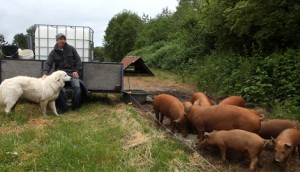 Listen to an audio podcast of this story here:
Podcast: Download (Duration: 7:20 — 4.2MB)
For nearly a century the Schwab family has maintained land in North Clark County, where each generation has tried his hand at working the land. None of the attempts produced a lasting operation, but now Matt and his wife Jen are building a diversified farm with a focus on sustainable food and a strong community.
Matt and Jen believe that today's faster lifestyle has led people to veer toward faster food. But they hope to inspire more thoughtful food practices through their farm, Inspiration Plantation, where they encourage consumers to know their food and farmer.
"For us that's what farming is about: The relationship not just with the customer, but how we are with the land and the animals," Jen said.
At the farm, the couple operates a primarily pasture-raised poultry operation but their diversified animal stock also includes a flock of sheep, gaggle of geese, a sounder of pigs and couple of goats just for the fun of it. These animal products and the fresh produce from a large garden are shared with consumers through direct farm purchase and select farmer's market sales all with deep roots in knowing where the food came from.
Matt and Jen love to share with people what they do on their farm and why they've chosen to work according to sustainable practices. It's important to them to paint a picture of how the food they raise is different from the more common industrial food.
"It's a lot easier to make money from a piece of dirt by selling it than it is by actually capturing the energy, capturing the sunlight, and turning that into something you can sell to a consumer," Matt said.
But farming is a challenge Matt and Jen have embraced not just because they care about the food they eat – because they care about the food available to the community. Many of the couple's customers are people who have started to learn about where food comes from and Matt and Jen say their happy to be a resource where people can find locally grown sustainable food.
The Schwabs said it's common for people not to know how to find a farmer, so Matt and Jen reach out through their website, Facebook account and other online tools so interested consumers can find them and learn what their farm is about.
"I think the pendulum is swinging back towards a community based food system," Matt said.
If you would like to contact Inspiration Plantation about their locally produced products, contact them by emailing inspirationplantation@gmail.com.  Also, stay tuned to couv.com for the ongoing "Growing Local" series that looks at different perspectives of the local food movement in Southwest Washington.
CREDITS
Video shot and edited by Jordan Thompson and Miles Burnett
Audio by Evan Newman
Produced by Paul Suarez, Jordan J. Frasier and Evan Newman
---


If you want to go:
Inspiration Plantation
24311 NW 24th Ave
Ridgefield, WA 98642
Open Farm Hours every Friday & Saturday 2:00-5:00