Podcast: Download (Duration: 5:21 — 3.1MB)
Things are growing at Dilish Farm in Vancouver where Dillon Haggerty and Patricia Kent are well into their first season of urban farming.
Most young couples wouldn't think to start farming, especially with a baby on the way. But Haggerty and Kent don't see their plan as a risk, but rather an exciting challenge to make something out of nothing in a bare backyard that they're cultivating into a business.
The couple met while working on a cruise ship and eventually moved to California to work on a friend's organic farm. That built their confidence to establish their own farm. So, after visiting the Vancouver area on vacation, they decided this would be the perfect place to root both their family and garden.
The point of farming for this couple is to simplify the way they eat and provide for their family. Haggerty said the farm is an example of him not over-thinking and using nature to work with the land to provide for his family.
Getting their garden in the ground hasn't been the easiest journey. Even finding the right plot of land was a challenge. The search for land got to the point that Haggerty jokingly brainstormed to Kent how much he could grow in the vacant dirt that borders the freeway if they didn't find land soon. But just as leasing land proved problematic and when it almost seemed like they wouldn't find any plot of dirt, the couple happened upon a house with the perfect sized backyard and with dirt perfect for a farm.
Throughout this process the couple have called on area growers for advice and they've always received a warm reception. They said area farmers are so excited to help newcomers and that the growing community has been a great resource for making their dream viable.
At the time of this interview, the two were measuring their success in small increments, but they still had eyes for the future. They hope to one day have a 20- to 30-acre farm where they can raise a family and open a farm-to-table style restaurant.
---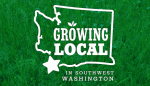 For more information on connecting with local farmers and growers, visit LocalHarvest.org.
Dilish Farm
4300 NE 137th Ave.
Vancouver 98682
413-209-4879