Sometimes the best treasures are those that lie right in our very own backyard without us even realizing it. If you are looking for a fabulous hot date or family daytrip in our local area, look no further than Bob's Red Mill!  Located just 25 minutes south of Vancouver, WA in Milwaukie, OR, Bob's Red Mill (BRM) is our nation's leader in stone milling with the greatest diversity of whole grains in the world.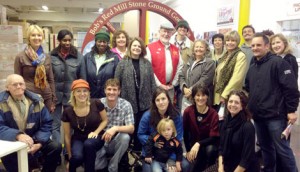 One of my greatest pleasures in sharing the gift of health with our community is pointing individuals to local, affordable, and high quality resources for healthy eating.  Last week I led my second annual field trip to Bob's Red Mill, bringing 25 employees to enjoy a private tour of the fascinating inner workings of the mill factory. BRM's enthusiastic and warm-hearted mill tour coordinator, Christie Coykendall, shared insights from her extensive knowledge of nutrition and introduced us to new names and uses for many delicious but under eaten grains and seeds.
For those who are gluten intolerant and apprehensive of the word "grains," Bob's Red Mill has an exceptional source of gluten-free (GF) grains, including the GF super six grains—amaranth, buckwheat, millet, sorghum, teff, and quinoa—which are the most fiber and nutrient-rich of all GF grains.  Beyond the many hundreds of grains offered at BRM, there are also nuts, beans, seeds, dried fruits, spices, herbs, and a wide variety of various baking supplies.
During your tour, you will more than likely have the privilege of meeting the founder Bob Moore himself, as he is busily engaged in the day to day interactions with each department and employee.  At 84 years old, he has more energy and gusto for life than many 30 year-olds! Full of life, Bob has a deep appreciation for music and can often be found playing his beloved piano or learning new skills on his violin. Bob is a most inspiring business man who lives his life in integrity and excellence, even in the small details such as the fine tuning of newly developed recipe and his employee's quality of life. He believes caring for "People Before Profit," as was best demonstrated in his giving away the entire company to his employees in 2010 through an employee stock ownership plan.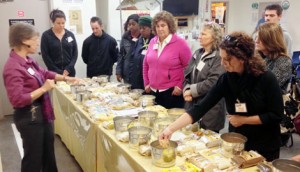 Gather the family or some friends and be sure to take advantage of this "backyard goldmine" either by scheduling a private tour by phone or just dropping in for a public tour Monday through Friday from 10am-11:30am. Once your appetite to learn—and to eat!—have be whetted from the factory tour, grab a from-scratch healthy breakfast or lunch at the whole grain store, restaurant, and bakery just 1.5 miles away. Here you can stock up on over 400 rare and essential products from the bulk bins. Chances are you will discover that Bob's Red Mill becomes a regular favorite excursion of yours year after year, which as Bob Moore says, is "To Your Health!"
For more information about Bob's Red Mill, visit their website and Facebook page.
CelebrateNutrition.com
https://www.facebook.com/CelebrateNutrition