KGW news reporter Abbey Gibb took a close look at the Columbia River Crossing project. In her report she found more than $85 million directed to projects that have nothing to do with the construction of the proposed I-5 replacement bridge. Her list includes: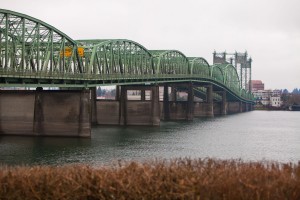 $51M for a new TriMet maintenance facility in Gresham–located some 10 miles east of the CRC project
$2.7M for a TriMet administrative facility in South Portland
$10M for a "curation facility"
$15M for a restoration project at Lewis River, about 22 miles north of the project
Nearly $344,000 for upgrades to Portland's Steel Bridge, six miles south of the project
$6.9M for Hood River Channel Restoration, located 60 miles east of the project
This report comes at a crucial point. Recently Washington state lawmakers allocated $82 million of the State's transportation budget to "planning money for a replacement bridge carrying Interstate 5 over the Columbia River.  There are stipulations attached to the money: a required forensic audit of the $3.4 billion CRC project and withholding most of the money until the U.S. Coast Guard approves the proposed bridge height and issues a construction permit.
Original KGW Story: CRC investigation: Where your tax money is going
Tiffany Couch originally reported these facts on COUV.COM (See below)
The money trail from CRC project documents
CRC internal budget reveals cost shifting to Clark County