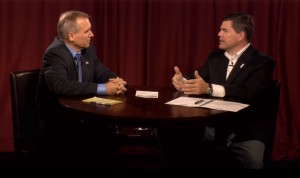 Podcast: Download (Duration: 30:06 — 41.3MB)
James Watkins provided the following text to be published with his interview:
At a time when government resources are scarce, demand for services high, and family budgets are at a breaking point, the only way we'll be able to fund our shared priorities is by making government more efficient and effective, and working to restore trust in our government.  Now, more than ever, we need a strong, independent State Auditor focused on driving good, effective government. And instead of blindly cutting budgets, policy makers should value the work of the State Auditor's Office and look to the State Auditor to help identify opportunities that will make government more efficient and effective while preserving critical services.
Brian Sonntag said earlier this year that I am 'particularly well qualified based on his experience and background to advance the State Auditor's Office and be an independent advocate for taxpayers.'
I am the only candidate running for State Auditor who does performance audits and assessments for a living. In the 23 years since I earned my MBA, I've done over 150 performance audits and engagements, working to make organizations – government and private sector – more efficient, more effective, and more accountable.  We need more of that in Olympia.
The auditor's job – and this election – is about performance, not politics. The legislature and governor are elected to set public policy – the job of the State Auditor is to make sure that whatever that policy is, the peoples' money is spent effectively.
Open government is integral to a transparent, accountable government. I believe passionately about public access and open government – about the need for government to be responsive and accountable to its citizens. That means treating every person equally and with respect, without regard to sex, race, national origin, cultural background, or language, and in accordance with state and federal laws. I will work to promote open and good government across the state and in the halls of the Legislature in Olympia.
I have been endorsed by a diverse coalition of Democrats and Republicans ranging from the Mainstream Republicans of Washington to the Pierce County Young Democrats.  From business and labor groups ranging from the Retired Public Employees Council of Washington to the Washington Farm Bureau PAC; every major newspaper that has endorsed so far in the primary or general election; local elected officials across the state; and more. My 'Good Government' message and qualifications are well received on both sides of the aisle.
I have been married to my wife Ashley for 27 years, and we have two teenage children.  I'm a certified cave diver, member of the Cascade Bicycle Club, and am an avid cyclist and motorcyclist.
For more information: 
Friends of James Watkins
PO Box 2213 Kirkland, WA 98083
425-390-4348
www.WatkinsForAuditor.com
www.FactCheckTroyKelley.com
To donate, go to https://watkinsforauditor.netboots.net/contribute
---
COUV.COM has invited every candidate on Clark County ballots to share their views with voters in a free-flowing interview where candidates are free to talk about whatever they like.  In addition to that conversation, each candidate will wrap up each interview by speaking directly to voters as they see fit.
COUV.COM streams each interview live, including live audio before and after each interview so listeners can hear our pre-interview and post-interview conversations. It's our way of being transparent and welcoming open unfiltered access behind the scenes.
Although our invitation was extended to all candidates, some accepted and some declined.  If they do not appear on COUV.COM by October 15, it is because they declined to participate.
COUV.COM can publish submitted text from each candidate that participates.  However, we will not include text that talks negatively about another candidate.  We encourage positive issues-oriented messages.