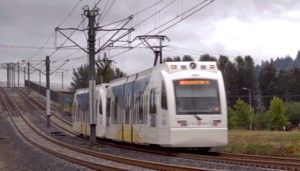 Earlier this year, a Google search produced a list of what was being written about the Columbia River Crossing Light Rail project (CRC). The links were posted here: CRC: What other publications, blogs are saying.
Today, the update continues as we continue to see strong opposition to the project. As transportation analyst John Charles noted during his appearance at the June Bridging the Gaps, "This is a light rail project with some other things thrown in for political cover."
Out of the list below, who do you think got it right?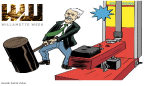 Derailing the Bridge | Willamette Week
Backers of a new I-5 bridge can't hide their faulty plan to pay for it. But they have an even bigger problem: Clark County voters. For years now, Oregon's leaders have assured taxpayers that plans for a new interstate bridge across the Columbia River…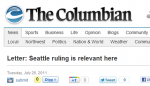 Letter to the Editor: Seattle ruling is relevant here, by Robert and Diane Figley.A King County Superior Court ruling July 18 will have far-reaching effects for those on both sides of the I-5 Columbia River Crossing issue. Judge Joan DuBuque sided with Seattl…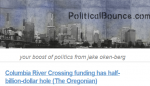 Columbia River Crossing funding has half-billion-dollar hole.
The CRC is using outdated, inflated traffic projections and a tolling plan that incorporated an unacceptably risky debt service structure, according to the Oregon…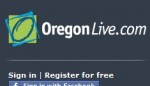 Columbia River Crossing traffic models questioned
Traffic models used for the $3.6 million bridge project have been questioned by the project's own consultants, throwing the financing plan for the bridge…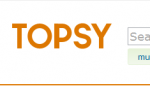 Twitter Trackbacks for Traffic estimates on Columbia River…
32 Tweets of OregonLive.com story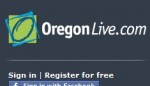 Traffic estimates on Columbia River Crossing further muddy the financial picture
Oregon Department of Transportation documents have surfaced in which three of CRC's largest contractors question traffic forecast models used by the project…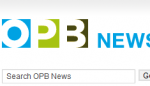 Internal Audit Ordered For I-5 Bridge Project
The top administrator for the Columbia River Crossing has ordered an internal audit of the project. The CRC is planning a replacement for the aging Interstate 5 bridge…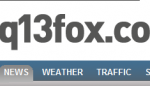 Seattle tolls: Drivers could be paying tolls no matter which way
WSDOT says that without new revenue, major projects such as the 520 Bridge, the Columbia River Crossing and the U.S. Route 395 Spokane corridor will…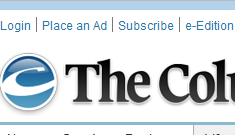 New Crossing chief orders internal audit
The Columbia River Crossing's new director has called for an internal audit of the $3.6 billion project's finances. The Columbia River Crossing's new director…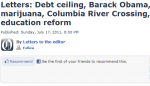 Letters to the Editor: Columbia River Crossing by John F. Bradach
The governors of Oregon and Washington, ODOT, WSDOT and their teams of experts, who have spent $130 million to date, need to reconsider the 95-foot…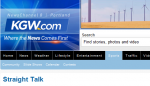 Video: Columbia River Crossing
Project Director Nancy Boyd and planning consultant Bob Stacey discuss plans for the Columbia River Crossing…

Share your voice. Send us a link to your blog.
---
See our continuing coverage of the Columbia River Crossing Light Rail project.
Do you have information to share on the CRC? To respond anonymously call 260-816-1426. To allow your comments to be used on COUV.COM call 260-816-1429.