Stephen Pidgeon, candidate for Washington state attorney general, visited COUV.COM on Friday, June 27 and spoke in detail on a variety issues, including the importance of an attorney general (AG) being able to argue both sides of the law, the emergence of Clark County people taking politics seriously, defining a "constitutionally created" job like the AG's office and the 9th Circuit court judicial activism.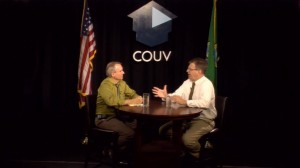 Pidgeon, a practicing attorney, also discussed the Governor's race and why he defines himself as a conservative republican.
In discussing the differences with the other candidates, Pidgeon delves into such issues as Bill Gates Senior's "excise tax for the super rich" proposal and why he sued, and the constitutionality of Stormans v. Selecky pharmaceutical case that would require pharmacies to dispense the morning-after pill.
Below is a broad timeline of the discussion with David Madore.
What are the responsibilities of the State Attorney General, and how are you qualified for the position?
00:11-05:25
What are the differences between Pidgeon and other candidates?
05:26 – 08:49
Has Rob McKenna endorsed an AG candidate this year?
08:50 – 10:44
Pidgeon discusses how in some cases, the AG can argue both sides of the law.
10:45 – 12:15
Pidgeon explains why he defines himself as a "conservative republican" and addresses those that have abandoned the principles of the party.
12:16 – 14:14
The two discuss the immergence of people taking politics seriously in Clark County, EPA regulations.
14:15 – 16:04
Private property rights, overbearing regulations.
16:05 – 17:18
Department of ecology, Governor's race, 3 tiers of law.
17:19 – 21:22
Defining a "constitutionally created" job like the Attorney General's office, hypothetical situations, and state agency accountability.
21:23 – 27:43
Defending the state, the 9th Circuit court, judicial activism.
27:44 – 29:19
Wrap up, candidate details & contact information.
29:20 – End