Podcast: Download (Duration: 13:33 — 18.6MB)
In the final segment of our four-part "BPA, Another Way," series, Clark County Today host David Madore wraps up his conversation with Washington State Rep. for District 18, Ed Orcutt (R – Kalama), and Terry Constance, of Another Way BPA, about of the Bonneville Power Administration's plans for constructing a new 500,000 volt transmission line from Castle Rock through southwest Washington to Troutdale in Oregon.
Constance describes the many ways people can become involved with the process of communicating their concerns and ideas to the BPA and one another. People can visit the website nowaybpa.com and learn about monthly community meetings that happen at different locations in Clark County the third Thursday of each month, at 6 pm.
People can also send comments directly to the BPA or send comments to nowaybpa.com, which will forward them onto BPA on their behalf.
CREDITS
Video shot by Ed Stortro and Scott Thompson
Video edited by Ed Stortro and Jordan Thompson
---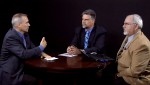 View our part one of this series of interviews with Terry Constance of Another Way BPA and Rep. Ed Orcutt (September 17, 2011): Clark County Today – BPA, Another Way part 3