Podcast: Download (Duration: 13:38 — 18.7MB)
In part three of our four-part series, "BPA, Another Way," host David Madore continues his conversation with Washington State Representative for District 18, Ed Orcutt (R – Kalama), and Terry Constance, of Another Way BPA, about the realities of the Bonneville Power Administration (BPA) constructing a new 500,000 volt transmission line from Castle Rock, Wash. through Southwest Washington to Troutdale, Ore.
Some proposed BPA routes will place high powered 500,000 volt transmission lines in residential areas in cities large and small, including Vancouver and Camas.
Orcutt and Constance say these potential routes will be expensive, as BPA will need to acquire private property and invite years oflitigation from angry property owners.
"This would be the first time in history that BPA has built these kinds of lines through this much population," said Constance. "I don't think the public is going to stand for it."
Madore says that in addition to being eyesores, the towers could pose a significant danger should one ever fall over close to residential areas. A 500 KV transmission tower can be hundreds of feet in size, requiring as much as 350 feet of distance on either side to create a safety zone, or "prudent avoidance." The lines radiate a strong electromagnetic field hundreds of feet in every direction, and can make a lot of noise.
"They snap, crackle, and pop," said Constance.
Constance says his alternative "gray line" would primarily travel over public-owned lands in remote areas.  He thinks it would be a matter of a few BPA engineers going into the field and taking coordinates to map out a route that will avoid populated areas.
Orcutt adds that the citizens he has spoken to aren't necessarily saying they don't want transmission lines, they have simply offered alternatives to mitigate the impact. However, Constance feels the BPA takes lots of notes when citizens speak, but doesn't seem to take their concerns that seriously.
"They listen to us, but they don't do anything from what they've heard," he said. "There is a 1,296 page document of people saying they don't want these lines anywhere around them, but yet, they're just part of the record. So they're basically ignored."
Next episode: "Letting your voice be heard."
Credits
A COUV.COM Production.
Video shot by Ed Stortro and Scott Thompson
Video edited by Ed Stortro & Jordan Thompson
---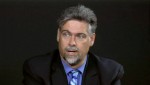 View our part two of this series of interviews with Terry Constance of Another Way BPA and Rep. Ed Orcutt (September 16, 2011): Clark County Today – BPA, Another Way part 2