Podcast: Download (Duration: 16:11 — 22.2MB)
Vancouver attorney Michael Langsdorf drove his 2006 Lexus SUV up to a private railroad crossing just north of the Columbia River at 105th Avenue. He says he stopped, looked right, looked left, and "didn't see any train at all."
The unlevel approach to the crossing, and possibily the early evening sun, may have obscured his vision of an approaching, eastbound train. He never saw the train, but he heard the train's whistle and hit his accelerator.
Langsdorf said the train bore down on him at 70 mph, but that the engineer was able to "lock it down and get to maybe 63 when he hit my car."
The collision threw the SUV off the tracks and sent Langsdorf to the hospital.
He suffered a crushed vertebrae, a lot of sore muscles, and after his near-death experience he has a renewed purpose to help others. He appeared before the Vancouver City Council and asked for review of statues that allow trains to travel through residential areas at very high speeds.
"If we don't allow cars to travel more than 35 mph through a residential area, we shouldn't allow a train to travel at 70 mph through a residential area. We don't even allow freeways to travel that fast," says Langsdorf, and notes that when the ordinances were written trains didn't move 70 mph and the area where he was hit was far less populated.
"Four more feet and I was dead."
---
In addition to the above Clark County Today video, Langsdorf's City Council testimony can be viewed on CVTV. Choose "Citizen Forum" on the linked page and forward to 4:54.
Private railway crossings were the subject of an earlier COUV.COM piece:
Marshack says civil rights ignored.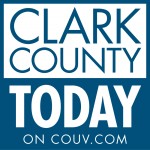 Watch other programs from Clark County Today.