Making your own salad dressing is one of the simplest, most delicious ways to promise wallet-savings. Think "five for five!" Just a five minute investment of your time will result in about a five dollar savings investment that would ordinarily purchase a healthy store-bought dressing.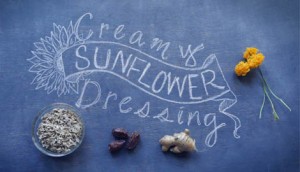 Salad dressings do not need to be anything fancy, as even a handful of blended ingredients will highlight the full-flavor of already fresh veggies and greens without stealing the show. With stomach soothing ginger, plump dates for a hint of sweetness, and tangy garlic, do not be surprised if my dressing suddenly finds you listing the reasons for unexpected salad cravings.
Nutritional yeast and sunflower seeds pack this recipe full of B-vitamins, fiber, and protein. Rating at #2 among the top 10 most nutrient-rich nuts and seeds in the world, sunflower seeds are most notable for their abundance of the body's primarily fat-soluble antioxidant, vitamin E. This precious oil neutralizes otherwise damaging free radicals and enhances the absorption of the fat soluble vitamins in fruits and veggies, such as the beta-carotene in carrots. My motto is, "No sissy salads!" Spread that dressing on like it is good for you—because it is!
Creamy Sunflower Dressing:
• 1 c. filtered water
• 1 1/2 c. nutritional yeast
• 1 1/2 c. sunflower seeds, raw & unsalted (optional—soaked a few hours or overnight)
• 3 fresh dates (optional—soak w/sunflower seeds to tenderize)
• 1/4 inch piece fresh ginger, peeled
• 1 Tbsp. apple cider vinegar, raw, organic
• 1 tsp. tamari soy sauce
• 1 Tbsp. garlic, minced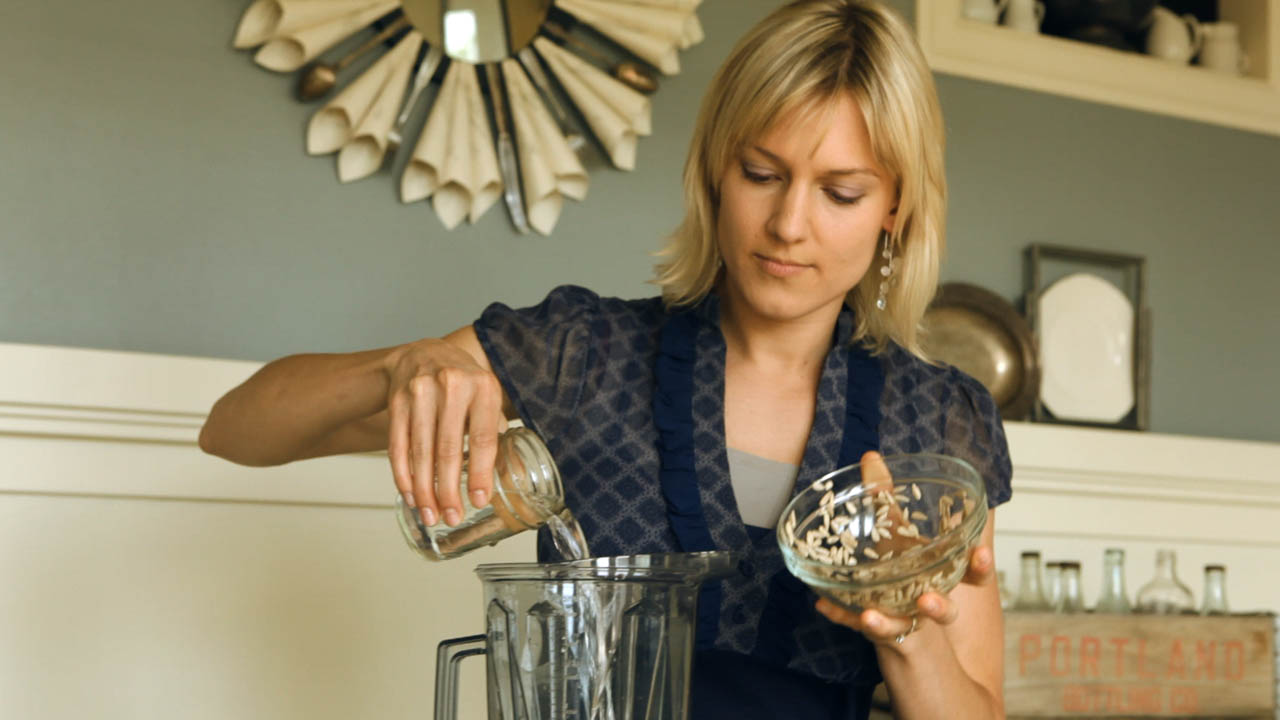 Blend all ingredients in a high performance blender until smooth. Serve over your choice of greens. One of my favorite combinations is the peppery flavor of watercress mixed with spinach and topped fresh sliced peaches. Keeps up to 2 weeks in the refrigerator.
Yield: 3 cups
Recipe©Leanne Ernster 2011
Shopping List:
• 1 1/2 c. nutritional yeast
• 1 1/2 c. sunflower seeds
• 3 dates (Medjool dates are my favorite)
• 1/4 inch piece fresh ginger, peeled
• apple cider vinegar, raw, organic
• tamari soy sauce
• 1 clove garlic
Tips:
For an extra nutritional boost, cover the sunflower seeds with the 1 ¼ c. filtered water and soak overnight, or about 6 hours. This not only will tenderize the sunflower seeds but also enhance the digestibility and absorption of the nutrients of most all nuts, seeds, and grains.
This dressing is thick enough to make a delightful veggie dip or sandwich spread. Consider swapping the sunflower seeds for cashews, pumpkin seeds, or another creative option.
CREDITS

Video shot and edited by Jordan Thompson and Miles Burnett
Contributing set styling and props by Lindsea Dragomir, of House of Harvest
Click below to print: