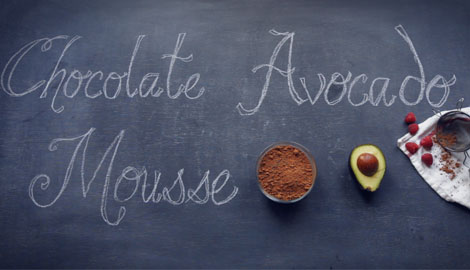 Imagine if there was a chocolate mousse that tasted as incredible as it was good for you.  Well, look no further, as here it is—a little bit of heaven served in a dish!   The surprising ingredient in this recipe is quite obvious.  The velvety-smooth meat of the avocado fruit makes a brilliant, healthy modification for rich dairy products such as butter, mayonnaise, sour cream, or as in this recipe, an alternative to the heavy cream used in standard mousse recipes.  While mousse typically contains an exorbitant amount of cholesterol and saturated fat, my mousse ingredients are nothing to feel guilty about.   Avocado's health promoting monounsaturated fats are heart healthy, anti-inflammatory, cancer preventing, and optimize the absorption of their own impressive carotenoid content.  These unquestionable benefits, along with B-6, omega-3 fatty acids, and dietary fiber for cholesterol reduction and blood sugar regulation make my mousse a divine opportunity to ensure you eat your good-for-you dessert!   *This video is dedicated to my dad, David, in celebration of all dads for Father's Day!  Whip up this guilt-free chocolate treat for your dad and bless his heart in more than one way.
2 large Haas avocados
1/2 c. maple syrup
1-2 tsp. vanilla
1 tsp. balsamic vinegar
1 tsp. tamari soy sauce
1 c. raw cacao powder (or standard baking cocoa powder)
Blend all ingredients in a food processor until smooth and creamy.  Serve in glass dishes.  This mousse can be eaten immediately and is most flavorful at room temperature.   Yield: About 4-6 small dishes Recipe©Leanne Ernster, 2008.
Shopping List:
2 large Haas avocados
4 oz. maple syrup
vanilla
balsamic vinegar
tamari soy sauce, (reduced sodium optional)
1 c. cocoa powder  (my favorite brand of raw cacao powder is Navitas Naturals©)
Tips: This mousse makes a delightful substitute for frosting such as cupcakes/cakes as a strawberry "fondue" dip.  Delicious toppings include fresh mint or raspberries.  Consider adding 2 tbsp extra virgin coconut oil for an extra shiny texture, using gluten free tamari to keep it GF, or using the more nutritious form of maple syrup, Grade B, over standard Grade A maple syrup.
Click below to print: