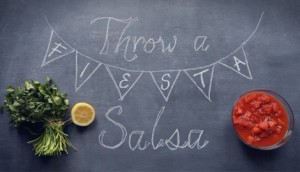 If there is no green in your salsa I encourage you to consider an upgrade!  Most people do not realize that the dollars they pay for store-bought salsa purchase only a cheap mixture of two-ingredients: tomatoes and spices.  The next time you visit your local grocery store, pick up a container and read the ingredients.
Cilantro is the key to authentic, garden-fresh salsa.  Beyond its vibrant, summer flavor, cilantro is the fourth most nutrient-rich herb with an antioxidant score of 431 out of 1000.  As with many vegetables, the stems contain more fiber and only moderately less nutrients than the leaves, so I like including the upper half of the stems in my salsa.  While cilantro is generally priced quite reasonably at around fifty cents a bunch year-round, it is also easily grown in the garden and makes a complimentary seasoning to any dish.
Throw a Fiesta Salsa
1/2 onion
2 cans (14.5oz) tomatoes, organic  (reduced/low-sodium optional)
2 tbsp. fresh minced garlic
2 bunches cilantro, organic (use upper half of stems if desired)
1 lemon, juiced (about 1/4 c.)
Method:
Place all ingredients into a food processor and blend about 8 seconds or until the desired consistency is reached.  Now, throw a fiesta!  The salsa is most delicious the second day, once the onion has marinated more subtly into the myriad of flavors. Whip up a large batch and freeze in small containers up to 3 months.  Frozen salsa will thaw out more liquefied but still tastes fantastic.
Yield: About 6 cups.
Recipe©Leanne Ernster, 2009.
Shopping List:
1 onion
2 cans (14.5oz) tomatoes, organic
1 clove garlic
2 bunches cilantro, organic
1 lemon
Creative Ideas: Add a handful of curly kale or spinach, shredded carrot, mango for a tropical flair, or jalapeno pepper to the food processor to mix up your salsa.  Use as a bruschetta atop eggs or fish, in turkey burgers, or over a bowl of black beans.
Interesting Facts: Canned tomatoes retain most of their nutrients and contain even more lycopene—the bright red anticancer carotenoid pigment—than fresh off the vine tomatoes. When tomatoes undergo heat, as in the canning process, their cells release further lycopene, increasing the absorption into our bodies. Always look for the deepest red when selecting tomato products, as it is a visible sign of greater lycopene content.
When buying canned tomatoes, consider choosing varieties with reduced or without added sodium since most chips are well-salted.  Also, look for tomatoes produced in the USA, as international standards for the lead content in cans are often less strict.  This is especially important with fruits such as tomatoes whose high acid content can cause corrosion of the metals into the food.
CREDITS
Video shot and edited by Jordan Thompson and Miles Burnett
Contributing set styling and props by Lindsea Dragomir, of House of Harvest