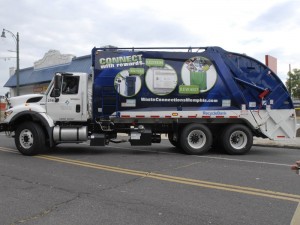 Founded in about 1997, Waste Connections Inc. (WCI) is a fast growing waste and recycling company for residential and commercial customers in 29 states, primarily in the West. While other sectors struggle, WCI revenue and income has boomed. In 2011, WCI generated Revenues of over $1.5 Billion and Net income over $165 Million, over a 22% income growth from the previous year. Likewise, executive compensation has catapulted. In 2011, the top five WCI Executives annual compensation packages ranged from $1,068,725 to $3,085,234. WCI stock awards are a significant component. Ample incentive pay provides motivation to boost contracts and prices.
Since 1998, Waste Connections contracts with Clark County, cities, and schools have grown steadily. Typically, customers don't choose waste service providers directly, county commissioners and city councils select them. In Clark County, Waste Connections is the primary provider for garbage and recycling, which is mandatory in many areas. They also handle optional yard debris. Clark County Commissioners signed contracts with WCI in 2008 for recycling in unincorporated county and the cities of Battleground, La Center, and Yacolt as well as School Districts. County Commissioners signed a yard debris contract with WCI in 2004. WCI also offers on demand drop boxes for garbage, often without lids. In addition, WCI acquires landfills and transports solid waste from urban areas to outlying landfills in the Pacific NW.
Around 2006, the county began a pilot program in various areas to substitute a single recycle cart with a lid on wheels rather than residents hauling 3 separate uncovered recycle bins out to the curb. Key benefits are that loose debris littering neighborhoods is greatly reduced and customers only have to sort out glass in a separate bin. The county paid for about 5,000 carts for the pilot program. After deeming it successful, the county and some cities began making the transition to carts starting about 2009. The county then paid for an initial stock of 49,806 rolling recycle carts at a cost of $2,764,627 including sales tax. Credits for returns of old bins, were to be applied to the county. Automatic truck pick-up for the new carts replaced manual loading. Now WCI staff separate recycled materials on conveyor belts and ask customers not to place plastic bags or wraps in recycle carts because it clogs up the machines.
Conflict of interests or business as usual?
According to reports filed with the US Securities and Exchange Commission, WCI seeks monopoly status and writes:
"Our operations include market areas where we have exclusive arrangements, including franchise agreements, municipal contracts and governmental certificates, under which we are the exclusive service provider for a specified market…Our district management and sales and marketing personnel maintain relationships with local governmental officials within their service areas, maintain, renew and renegotiate existing franchise agreements and municipal contracts, and secure additional agreements and contracts while targeting acceptable financial returns….We also focus on raising prices and instituting surcharges, when appropriate, to offset cost increases."
WCI connects with some local officials via generous campaign contributions. Last year, WCI contributed $5000 to the Political Action Committee Keep Clark County Moving that pushed the 2011 C-Tran sales tax hike. C-Tran board members and County Commissioners Boldt and Stuart advocated the tax hike, along with Vancouver City C-Tran Board members Tim Leavitt and Larry Smith.
According to PDC records as of Sept. 20, Waste Connections and its top executives and managers have contributed at least $14,400 to County Commissioner Stuarts' campaigns. Commissioner Boldt has accepted at least $ 6,800 from WCI, including a single donation of $5000 in 2008, a banner year for county contracts. Boldt has failed to list the occupation or employer for some contributions over $100 as is required, hence it is difficult to track where the funds are from. Former Commissioner Betty Sue Morris, who approved early county contracts, also garnered contributions. Commissioner Mielke has not received any contributions either as a commissioner or when he served four terms as State Representative for the 18th district.
Vancouver Mayor Tim Leavitt has accepted at least $3,650. Former mayor Royce Pollard approved prior contracts and also enjoyed generous donations. Vancouver City Councilor Jeanne Harris accepted $3500, and Councilor Larry Smith received $1950. Last year, WCI donated to Washougal City Council races, where the city contracts directly with WCI.
In contrast, Vancouver Councilor Jeannie Stewart declined a contribution to avoid any conflict of interests on contracts that require city council approval. Stewart serves on the solid waste advisory commission as well.
State legislators and statewide campaigns have also benefitted from WCI and/or WCI management contributions as well as donations from the WA Refuse and Recycling Association PAC, which has been regularly funded by WCI since at least 2002.
WCI and their management creatively recycle profits and compensation into campaign contributions for local officials who have approved or may approve WCI's trash contracts. This raises a conflict of interests, especially when consumers are required to purchase garbage and recycling services from WCI or have no alternate providers for optional services like yard debris or garbage drop boxes.
Click on the chart below to view WCI donations to Keep Clark County Moving and other contributions as reported by the Public Disclosure Commission. Updated 10-16-12.