Podcast: Download (Duration: 5:05 — 4.7MB)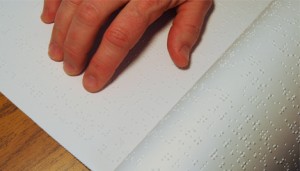 Vaughn Brown, the man who led the charge to change the legal requirements to practice animal massage in Washington, has moved on to new challenges.
Five years after successfully lobbying the Senate to adopt an amendment for licensing of animal massage therapists, Brown is now studying at the prestigious Berklee College of Music in Boston pursuing his passion to play the drums and possibly teach music.
When he was a high school student at Washington State School for the Blind in Vancouver, Brown worked to change a Washington law that required anyone who wanted to be an animal massage therapist to also obtain a license as a human massage therapist.  Vaughn said, "That doesn't make sense."
Those accomplishments would be impressive in any young person, but they're frankly amazing when you consider that Brown was born deaf and later became blind.  He has Usher's syndrome, a genetic disorder characterized by deafness and a gradual loss of vision.  He now wears cochlear implants and has the aid of a guide dog.
"As a deaf and blind adult, I am hoping to grow my equine massage business and develop my skills in horse training in order to be financially self-sufficient and not rely on government assistance," he said in his speech to the state Senate in 2007.
After his success in changing the law, Brown attended Clark College and later moved to the East Coast to expand his education and career horizons. Brown says, "I believe in this society you need to have multiple skills to survive." He still massages horses and is studying the competitive equestrian sport of dressage.
Related article: Blind see animals up close through sensory safari