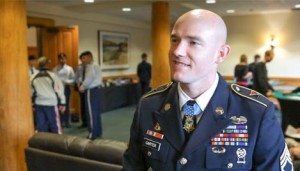 March 21st, Medal of Honor recipient Ty Carter spoke to a group of nearly 200 in Vancouver at a Northwest Battle Buddies fundraiser. Staff Sergeant Carter shared his dramatic experiences in combat and thanked the audience by saying, "For all of those who have served or are serving, thank you. But for those who served those who have served, thank you for your service."
Staff Sergeant Carter was a keynote speaker for the non-profit's fund raising event. Northwest Battle Buddies, operating in Battle Ground, is dedicated to providing service dogs to military men and women returning home with post-traumatic stress. NW Battle Buddies' goal is to help veterans regain their independence by partnering them with professionally trained and specifically matched service dogs at no charge.
For the full story watch the videos below.
How Staff Sergeant Carter earned his Medal of Honor.
Full speech – Staff Sgt. Ty Carter, Medal of Honor recipient