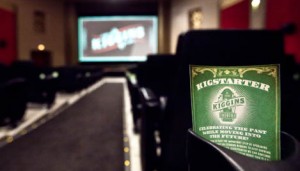 For the full story, watch the video above.
Historic Kiggins Theatre is asking patrons to help raise $85,000 to buy a new digital cinema projector and upgrade their seasoned sound system.
Theatre owner Dan Wyatt and team dubbed their campaign "Kigstarter", a pun on the very popular crowdfunding site  kickstarter.com. Since the site's launch in 2009, over $500 million has been pledged by more than 3 million people, funding more than 35,000 creative projects. Individuals contribute a wide variety of dollar amounts to campaigns and receive perks for their contributions.
Why is it important to owner Dan Wyatt to go digital now? Watch the video above to find out.
Official Kickstarter campaign website
Update August 19th, 2013: Kiggins Theater received 2 $10,000 donations, which has brought the campaign up to $48,573. One week to go. Over 400 people have contributed to this project.
Update August 23rd,  4:01 P.M.: Kiggins Theater succesfully raises $87,000. This project will be funded on Monday Aug 26, 10:37 a.m. (View congratulatory email)
Update August 26th, 10:37 a.m.: Campaign closes.