Listen to an audio podcast of this video here:
Podcast: Download (Duration: 1:46 — 1.0MB)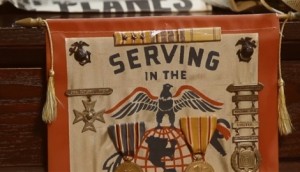 Every Fourth of July our nation commemorates the adoption of the Declaration of Independence in 1776. It is a day known for firework shows and family picnics. In honor of Independence Day, we asked a few Clark County veterans to reflect on what patriotism means to them.
Vancouver City Council member and U.S. Army veteran Larry Smith said patriotism means remembering the price that others paid for freedom and doing everything possible to protect it.
"So it's important when it comes to patriotism that you remember the individuals who have served and paid a price because freedom is not free it is paid for by the lives of men and women who have died in combat defending this country," Smith said.
Jerry Keen, Navy veteran and chairman of the Clark County Veterans Assistance Center said patriotism can be as easy as "answering the call."
That doesn't just have to be serving in the armed forces, the veterans added.
"Young kids as they grow up they may never serve but they can serve in a lot of different capacities such as community service…That's part of being a patriot as well," Smith said. "But part of being a patriot is not forgetting those who do wear a uniform and do serve."
Air Force veteran Mike Ragsdale added that the freedoms we have as U.S. citizens shouldn't be taken lightly as they are a unique privilege that isn't common in other countries.
"We enjoy so many benefits being citizens of this country. In the military I saw many other countries where they would dream to have a life like we have," Ragsdale said.
CREDITS
Video shot and edited by Miles Burnett