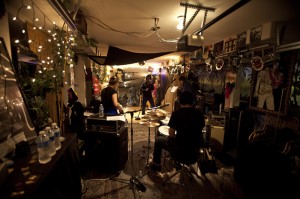 By day Mark Stevenz is a landscape worker. At night he transforms into an Elvis tribute artist.
Stevenz, who lives in Washougal, was always a fan of Elvis but not necessarily someone who planned on earning money while wearing a white jumpsuit.
It all started when he sang a version of "Don't be Cruel" at a restaurant in downtown Vancouver in 2008. A few theater guys at the place were impressed with his voice and asked him to be an Elvis-like character in a play, he said.
Eventually he discovered he could make a few bucks impersonating "the King" around Clark County.
"I am running seven days a week," he said. "Whatever comes my way, I try to be ready and do the best show I can."
He grew out his sideburns, bought a few jumpsuits and found band members on craigslist. Now he competes in Elvis tribute artist competitions in Vegas and books gigs with his band, Mark and the Memphis Kings.
His dream is to one day get a full-time job being an Elvis impersonator on a cruise ship or in a casino.
This week we're taking a look at Mark's life and what it takes for this Washougal resident to be "the King."
Come back Friday to see the full video.