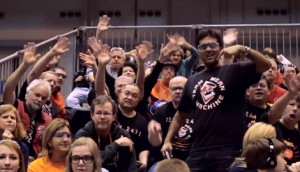 Listen to an audio podcast of this video here:
Podcast: Download (Duration: 5:26 — 3.1MB)
Team Mean Machine might be a small group of students from Washougal, Camas and Hockinson high schools but it was rubbing elbows with some of the best student engineers from around the globe.
The team competed in the FIRST Robotics world championship in St. Louis, Mo. at the end of April. The team didn't win a blue ribbion like it did in the Washington and Oregon competitions, but managed to be in the middle of the 88-team pack.
"It was our first time there and we did pretty well," team mentor Mohit Abraham said. "When you're at that level almost everyone is a regional winner."
Although the team didn't win, Abraham said the experience had a big impact.
"For a lot of them traveling to a place like St. Louis was a major experience," mentor Roy Thornley said.
Thornley said the competition is like the Super Bowl of robotics, with scouts from major universities, companies and organizations there looking for all the "good players."
CREDITS
Video shot and edited by Miles Burnett and Jordan Thompson
Audio by Evan Newman