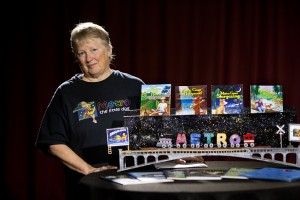 For the full story, watch the video above.
When you first meet Susie Slanina, it doesn't take long for her to start talking about Metro, the inspiration behind her children's book series. Susie found Metro at the Baldwin Park California animal shelter and it was love at first sight. While majoring in English at Cal State LA, she was challenged by a teacher to write a book, thus "Metro the Little Dog series was born. Her first book was bound in a paper research binder and decorated with stickers by neighborhood kids. Today, she has a local publisher that assists with illustrating and printing her books. Metro the Little Dog books are available at Vancouver locations such as SW Washington Humane Society, or her website and Amazon.com.
Besides reading and hiking with her adopted dogs, Slanina takes every opportunity to speak to encourage children to read more and try writing.