For the full story, watch the video above.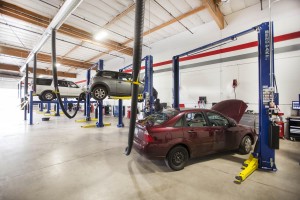 For the past seven years, Mike Miller's non-profit auto repair shop has been fixing vehicles at a reduced rate for low income clients. Quotes are adjusted on a sliding scale once the client provides proof on income.
"We're helping the needy," said Miller, "But how about just the regular people?"
That question eventually led to the birth of My Auto Repair Center, Miller's latest repair shop on the corner of NE 112th and 37th Circle.
Miller is confident that his new repair shop can beat any quote in town, estimating that most repairs will be "less than half" of the cost of other competitors. He is also emphasizing the importance of treating the customer with honesty and respect, while paying his mechanics a fair wage. Miller says his state of the art shop is manned by ASE certified mechanics.
How does this business model work? Watch the COUV Business Spotlight video above to find out.
My Auto repair center is located at 11010 NE 37th Cir, Vancouver, Wa 98682. Phone: 360-719-2114.