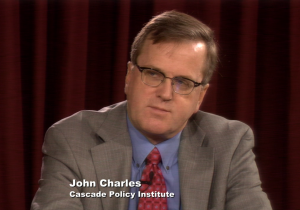 Podcast: Download (Duration: 17:05 — 39.1MB)
Clark County is about to vote on becoming a new tax base for a financially failing bureaucracy from another state. Portland TriMet, with more than $1 billion in unfunded debt obligations is in financial trouble even though automatic tax increases and fare increases continually pour more money into the system.
Area employers are paying over $200 million in payroll taxes to TriMet every year.  Yet, debt is rampant as spending continually outpaces revenue with an operating budget this year of $473 million. That budget balloons to $1.16 billion when light rail construction is included.
Like the thousands of businesses fleeing from California, many businesses in TriMet's area are relocating to more business-friendly environments. According to John Charles, an expert on public policy, TriMet is on an unsustainable track that will lead to their financial collapse. Their 2012 financial report is due out any day now. Stay tuned for a follow up story after that report is released.
John Charles, President and CEO of Cascade Policy Group for the past 7 years, also served for 17 years as executive director of the Oregon Environmental Council and on dozens of local, state and federal commissions and advisory boards related to environmental protection.
This election, Clark County citizens will be voting on proposition 1 to become taxpayers for this financially insolvent light rail bureaucracy.  A Yes vote will start sending millions in Clark County taxes to Portland TriMet to operate light rail in Clark County.  A No vote will keep Clark County taxes in Clark County.