In our ongoing coverage of the Bonneville Power Administration's plans to place a power line that stretches 70 miles through Clark County, COUV.COM will feature perspectives from various county residents who could be affected. Today we talk with Ray Richards, a Vancouver resident whose family has owned a working tree farm in the Dole Valley for more than 40 years.
BPA has currently settled on four alternative routes through Clark County. One would use much of an existing right of way along the Interstate 5 corridor, and three other routes would pass through more rural central and eastern Clark County.
The most easterly route would pass straight through the tree farm owned by Richards and his family. The 360-acre farm is in the Dole Valley, through which flows the East Fork of the Lewis River. Richards says his parents reforested the plot of land more than 40 years ago when it was mostly covered by snags and ferns and he doesn't want to see any section of his property clear cut for the new lines.
Between the swath necessary for BPA's towers and lines, plus the removal of so-called "hazard" trees that might fall against the lines, Richard stands to lose 27 acres.
"This particular parcel is 200 acres and it would be cut in two by a new power line corridor," said Richards.
Like many rural landowners, Richards is concerned about the financial cost and environmental impact of such a clear cut, which BPA will have to maintain either mechanically or with herbicides. Richards said he would never be allowed – nor would he ever want to – cut his trees clear to the river's edge like BPA might have to.
"It's just another stress on the river environment," Richards said. "Trees are maintained along the river's edge for shade and habitat."
Richards, 57, has become a board member with the organization A Better Way for BPA, which represents many other rural property owners. While he lives and works in Vancouver selling promotional products, his heart is back in the rustic ranch-style home his parents lived in for more than 30 years along the banks of the Lewis River. He uses it as a second office and a retreat.
Richards would like to see BPA construct the new line down the existing corridor in the western part of the county, where it could pass along the edges of people's property rather than carve through the countryside.
"It's an environmental impact that's a lot greater than using the existing corridor, and it's more expensive," Richards said. "The BPA's own figures say it would be more expensive to put a new corridor out here."
---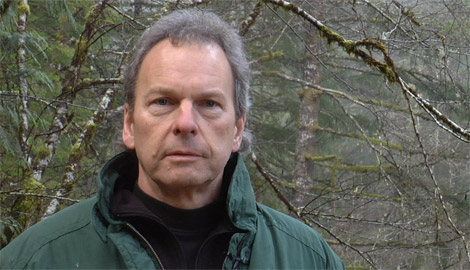 Watch the video of Ray Richards and see the affected property:
Tree farmer protests potential clear cut that could go to stream's edge