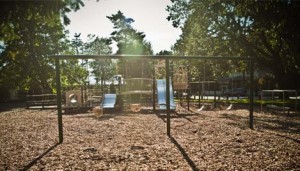 The temperatures for the next several days are predicted to be in the upper 90′s and dropping a little over the weekend.  For update-to-date forecasts visit the weather channel website.
Leanne Ernster from Celebrate Nutrition gives some tips on how to handle scorching temperatures: Heat exhaustion starts slowly and if not quickly treated can progress to heatstroke, a medical emergency which can be fatal.  The American Academy of Family Physicians estimates that 1 out of 500 people report heat exhaustion or stroke during the summer months, with heat stress causing an average of 240 deaths annually.  Individuals participating in activities of prolonged sun exposure or sweating (such as construction workers), young children, those with high blood pressure, and the elderly are most prone to heat exhaustion.
Think prevention and use common sense.  Watch for body signals increased thirst, nausea, muscle cramps, irritability, headache, clammy skin, dizziness, fatigue, and elevated body temperatures.  Avoid alcoholic or caffeinated beverages, staying hydrated throughout the day with vital mineral and electrolyte replenishing options like fresh juices or smoothies, which provide a delicious means to replenishing sodium, potassium, and magnesium.  Enjoy the outdoors during the cooler parts of the day, pace yourself with work or exercise in hot environments, and wear light-colored, lightweight clothing.
Additional information on heat exhaustion is available from WebMD.
The City of Vancouver, yesterday released the following information on how to stay cool these next few days.
News Release from: City of Vancouver
FEELING COOL IN THE 'COUV (CORRECTION ON FIRSTENBURG HOURS OF OPERATION)
Posted: August 15th, 2012 2:37 PM
Temperatures may be heating up, but Vancouver can be a cool place, with a variety of activities and locations offering relief from the heat. Don't have air conditioning? Here are some options where you can splash, study, enjoy a film, or simply chill.
Vancouver-Clark Parks and Recreation's Community Centers are perfect places to cool off, meet up with friends or take part in programs to play, swim or get fit. At both Firstenburg and Marshall, the lobby and game room areas are open to the public for free use. Fitness centers and pools will be available with paid entry either by drop in fee or membership. Marshall Community Center is fully air conditioned. However, please keep in mind that most of Firstenburg's open areas are ventilated with moving air, and are not air conditioned.
For those age 55 and better, the Luepke Senior Center next to Marshall offers air-conditioned activities to beat the heat.
Visit www.vanclarkparks-rec.org<http://www.vanclarkparks-rec.org> and click on Centers at the top for hours, activity schedules, fees and other information for all three centers. Should recreation classes be cancelled due to weather, that information will be available on the special Inclement Weather Lines at 360-487-7065 (Marshall Community Center) and 360-487-7040 (Firstenburg Community Center).
Along with a panoramic view of the Columbia River, Vancouver's Water Resources Education Center offers an air-conditioned opportunity to enjoy free hands-on exhibits for the whole family and toddler-size learning at Puddles Place. For a cool treat, the Water Center will be showing free Warren Miller films, depicting skiers and snowboarders in downhill thrills, from 1 to 5 p.m., today and Friday, when temperatures are expected to be at their hottest. There are no set show times, just running entertainment, so feel free to  drop-in. Children must be accompanied by an adult.
For Water Center information or directions, please see www.cityofvancouver.us/watercenter<http://www.cityofvancouver.us/watercenter>.
Other free, air-conditioned options around Vancouver include restaurants, stores and shops, such as at Westfield Shopping Center at Vancouver Mall Drive, or any Fort Vancouver Regional Library District location. Visit www.fvrl.org<http://www.fvrl.org> for library locations and hours.
The City of Vancouver reminds residents that during heat advisories it's important to stay hydrated. Where possible, stay indoors and in an air-conditioned facility. Children and pets should NEVER be left in a closed, parked vehicle for any time. Pet owners are encouraged to provide cool shelter for animals and plenty of water. Please note that except for service animals, pets are not allowed in the community centers mentioned below.
Helpful hours and contact information for keeping cool:
Firstenburg Community Center
700 N.E. 136th Ave., Vancouver, Washington
(360) 487-7001
Hours: (corrected)
Monday-Thursday:   5:30 am – 9 pm
Friday: 5:30 am – 8 pm
Saturday: 8 am – 7 pm
Sunday: Noon – 6 pm
Marshall Community Center and Luepke Senior Center
1009 E. McLoughlin Blvd., Vancouver, Washington
(360) 487-7100
Hours:
Monday-Thursday:         5:30 a.m. – 9 p.m.
Friday:                  5:30 a.m. – 8 p.m.
Saturday:                7:00 a.m. – 7 p.m.
Sunday:                  Closed
Water Resources Education Center
4600 S.E. Columbia Way, Vancouver, Washington
(360) 487-7111
Hours: Monday-Saturday     9 a.m. – 5 p.m.
Contact Info: Contact: Community Centers, Angela Brosius, Firstenburg Community Center,(360) 487-7003 Water Center, Loretta Callahan, Public Information Officer, Department of Public Works, 360-487-8255