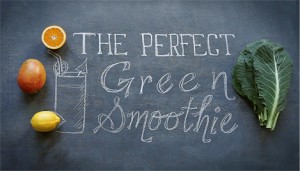 Green smoothies are on the rise as an increasing number of individuals today are deciding that it is time to place their health as a priority. Superior in nutrition even to steamed or raw greens, blending greens in a high-performance blender such as the Vitamix© provides 500% greater bioavailability (the absorption of nutrients) than the mechanics of chewing with our teeth. It is easier to drink a much higher volume of fruits and vegetables than it is to chew the same amount using a fork.
Since greens are the most micronutrient rich food on the planet with powerful immune boosting and disease preventing compounds, drinking your greens is one of the surest ways to support your body with maximum nourishment. And unlike juicing, which has a higher sugar load while also removing many of the beneficial nutrients and fibrous pulp, smoothies allow us to eat the whole plant.
My green smoothie recipe is especially unique in that I use whole fruits with water in place of store-bought juice. Besides adding extra nutrients, you gain the beneficial fiber, which is devoid in the standard American diet. This extra fiber detoxes, lowers LDL cholesterol, slows down the glycemic index of the fruit, and numerous other benefits.
To learn more about the power of greens, check out my Zesty Kale Salad recipe here.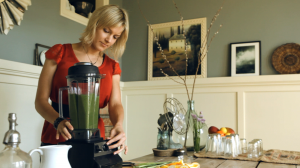 The Perfect Green Smoothie:
• 16oz filtered water
• 1 lemon, peeled
• 1 orange, peeled
• 2 tbsp. flaxseed
• 2 scoops green powder supplement (optional, your choice)
• 2 huge handfuls of collard greens, organic
• 2 cups frozen mango
Add all ingredients into a high-performance blender and blend on high until smooth. Serve and drink immediately while the ingredients are freshest.
Yield: Serves 2—don't forget to share the gift of health with a friend!
Recipe©Leanne Ernster 2011
Shopping List:
• 1 lemon
• 1 orange
• flaxseed
• 1 bunch organic greens (your choice—collards, kale, spinach, mustard greens, etc.)
• 14oz frozen fruit (your choice—mango is my favorite)
• green powder supplement (your choice)
Tips:
If you are new to green smoothies, start by adding more fruit than greens to transition your palate to the earthy taste. Over time as you grow to enjoy the flavor, add less fruit and more greens until greens are the predominant ingredient in your smoothie
CREDITS
Video shot and edited by Jordan Thompson and Miles Burnett
Contributing set styling and props by Lindsea Dragomir, of House of Harvest
Click below to print: