Pearson Field Airport, recognized as one of the oldest active small aviation airfields in the United States, will officially be designated a Historic Aerospace Site by the American Institute of Aeronautics & Astronautics (AIAA).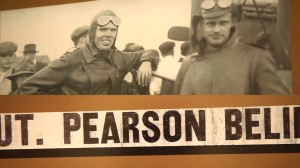 The ceremony will take place on Saturday, Sept. 8, at 2 p.m. at Pearson Air Museum, 1115 East Fifth St. and is free to the public (360-694-7026).
Pearson Field has played a significant role in the evolution of aviation in the Pacific Northwest. In 1905, the dirigible Gelatine landed at the Fort Vancouver Polo Grounds in the first aerial crossing of the Columbia River. In 1911, the first airplane landed at Pearson Field.
Pearson Field has been the site of many historic aviation feats, including serving as the landing site for both the 1912 Silas Christofferson flight from the Multnomah Hotel and the first transpolar flight in 1937. In the interwar years it was used as a major military airfield.
The airfield continues to be Clark County's connection to the world of aviation, providing services like mapping, aerial photography, pipeline patrol, and transport of blood and organ donations, to name but a few.
In May 2011, COUV.COM produced a video documentary on Pearson Field, Flight enthusiast talk about Pearson Field that won a 2012 Telly Award.
While making the documentary, field manager Willy Williamson said, "We're not a Coke and joke airport. It's a real airport. We do real stuff here." This would include some 150 flights per day. A performance snapshot from 2011 shows that 60 percent of the flights into Pearson are related to business or commerce and have a positive economic impact on the community.
Pearson Field also houses the Pearson Air Museum and Jack Murdock Aviation Center that combines a celebration of aviation history with hands-on demonstrations, exhibits, and aviation films involving the science of flight.
The AIAA, the world's largest technical society dedicated to the global aerospace profession, established the Historic Aerospace Sites Program to promote the preservation of, and the dissemination of information about, significant accomplishments made in the aerospace profession.