COUV.COM has been named a winner in the 33rd annual Telly Awards for a video documentary on Pearson Field Airport.
The Telly Awards honors the very best film and video productions, groundbreaking online video content, and outstanding local, regional, and cable TV commercials and programs.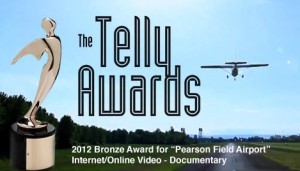 COUV.COM won a bronze award for its look at Pearson Field, an iconic haven for Vancouver-area flight enthusiasts. The video was directed, shot and edited by Jordan Thompson and Miles Burnett, with audio by Evan Newman. Paul Suarez was the producer.
Pearson Field has a rich history and has seen many aviation firsts, with its use as an airfield dating back to a dirigible landing in 1905. Today it houses Pearson Air Museum and Jack Murdock Aviation Center, which combine a celebration of aviation history with hands-on demonstrations involving the science of flight.
The Telly Awards was founded in 1979 and is one of the most sought-after awards. Winners represent the best work of the most respected advertising agencies, production companies, television stations, cable operators, and corporate video departments in the world.
Last year's Telly Awards received more than 11,000 entries from all 50 states and five continents.
To find out more about the Telly Awards, visit website at www.tellyawards.com.