For the full story, watch the video above.
A vibrant and playful mural now covers the west wall of Eagle Street automotive in downtown Vancouver.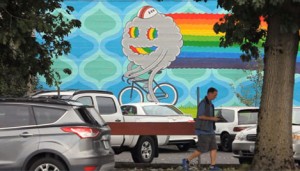 Artist Jon Stommel is keeping Vancouver weird, one gallon of paint at a time. His mural titled "bicycling" was part of the Clark County Mural Society's summer of murals contest. Stommel, who took first place last year, placed third according to the Mural Society's Facebook page.
He may have been able to take the cake for a second year, if 2013's contest was based solely on who can stir up the most conversation. The public's response has been love or hate, (mostly love) leaving citizens to defend their opinions in downtown coffee shops or online.
One discussion broke out on a "vancouverwa" thread on the social news website reddit.com.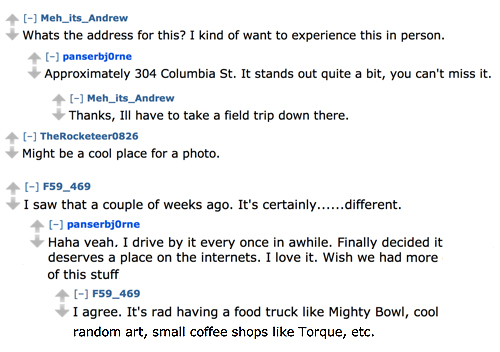 Couv.com previously reported on murals throughout Vancouver, which prompted us to question: Has Stommel created the first abstract mural around town? Vancouver's mural scene is dominated by historical references and realism techniques.
When we asked Stommel about the creation of his eerily delighted cloud character, he said, "I guess I like him as a source of rainbows… I dragged him up from the depths of my imagination. No deep symbolic reference, necessarily."
Mural painting is more than just a hobby for Stommel. He and his business partner Travis Czekalski run a company called Rather Severe that specializes in painting large-scale murals for schools and other venues. Stommel is also illustrating a series of children's books.
"A 2008 study looked at 265 commercial corridors in Philadelphia and found that business sales increased with the addition of murals in neighborhoods. Murals create neighborhood pride, build neighborhood identity, and are respected by neighbors who become unofficial stewards and protectors." – Tiffany Renee Conklin, Master of Urban Studies at Portland State University.
For more information visit Clark County Mural Society's Facebook page.
View Larger Map