For the full story watch the video above.
One of the largest collections of outdoor murals can be found in the Eastern Washington city of Toppenish. In Southwest Washington, Vancouver has started a similar tradition utilizing available walls to display the rich heritage of the city.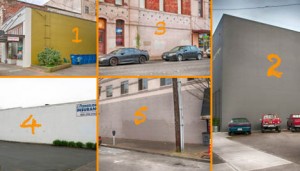 Toppenish Washington held their first mural-in-a day event on June 3rd, 1989. Phil Kooser and 15 other artist combined their talents to create the 40 foot mural "Clearing the Land" in a single day. Today, twenty-four years and 74 murals later, the tradition carries on.
Vancouver's interest in murals was sparked in the early 2000's. While vacationing on Vancouver Island, Clark County resident Jerry Rolling visited the city of Chamainus that had a large collection of outdoor murals. Seeing the economic and aesthetic benefits this outdoor art gallery brought to the city, Rolling presented his ideas to colleague Nikki White. In 2004, they founded Clark County Mural Society (CCMS) and in 2005, the first mural was painted. Their hope is these murals would help economic growth and tourism in Vancouver.
During the summer of 2013, five artists will begin painting during Vancouver's annual Summer of Murals contest. By the first week of August these murals will be ready for judging by six local judges. Each mural will be evaluated on originality, content, quality, appeal, and adherence to contest rules, theme and guidelines. Winners will be announced the first week of August.
Local businesses are encouraged to join with Clark County Mural Society in preserving and celebrating the art, history and culture of Vancouver by providing wall space for murals. Other local companies supply the paint and anti-graffiti products that ensure vibrant long lasting murals. When asked why he offered the side of his building for a mural, Michael Lary owner of The Source Climbing Wall stated, "We are just a community orientated business, so it's important to get involved in a lot of different ways, and that's another way to get involved (with the community)."
When asked about volunteers, Nikki White commented, "There is always a need for volunteers." Depending on what a person wants to do the amount of time would vary between 1 to 5 hours a month.
Looking for something to do in Vancouver?  Take stroll through the downtown area and view the murals! Below is a map with all their locations.
For additional information contact:
The Clark County Mural Society or their Facebook page.
Google Earth flyover of Vancouver's existing murals.