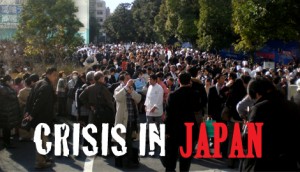 Several US Digital employees were in Tokyo when the earthquake struck. Here are excerpts from their latest email:
Now, I'll do my best to give brief update of the situation as I see it. We were up until midnight watching the news (9 a.m. Friday morning your time), experiencing aftershocks about every 5-10 minutes, which understandably made for restless sleep. It is 7 a.m. now Saturday morning our time, and aftershocks now come every 15-30 minutes. We felt a strong one about 90 minutes ago. Having been home alone when the quake hit, Jan especially finds the aftershocks unnerving. As I write this the house is shaking again.

1. The news continues to report relatively strong earthquakes in other parts of Japan as well, including relatively near us. It does not appear that aftershocks are creating further damage.

2. However, most of Japan continues under tsunami warnings, as aftershocks can create new waves. The footage we've seen even since last night will mean that the waves have caused great damage and almost certainly significant loss of life. It has been incredible to see the speed the waves would come ashore and move inland, up to two miles in some cases (we've heard). The water was so churned up that it looked like a slurry the color of ash. Some areas we've seen this morning show entire city areas where only strong concrete buildings have been left standing. All else is gone. Only time will tell how many people got out before the waves hit. Huge ships have been pushed inland.

3. Nuclear plant: There seems to be some concern about a nuclear power plant in Fukushima, about 150 miles from where we live. I do not think there will be any major problem with this plant or any other, but it is too soon to know for sure.

4. Fires are a huge problem. Several gas/petroleum storage areas or refineries are on fire with no sign of stopping anytime soon. Much of the central area of a city of 70,000 has been burning throughout the night. Surreal footage we saw this morning was hundreds of cars from a new car lot piled up by the waves like one might rake up leaves in your yard, and now many of them burning.

5. The official count as of this moment is 400 people dead and 700 missing. Those figures are likely to be completely unrealistic. It is not unreasonable to think the death toll will reach into the tens of thousands, primarily due to the tsunami and fires.

6. As far as we know all OMF personnel are safe. However, footage of the Sendai airport shows the entire area under water. We have two families in Sendai at present (and one other family working there who were out of town at the time of the earthquake). Other co-workers north of there have lost their power.

7. At minimum tens of thousands of people in Tokyo were not able to get home last night, with temperatures hovering near freezing. The government opened schools and offices for people to spend the night. It was the same scene at the airports. Many trains that had stopped have started again this morning.

8. I was on a bus on the freeway when the earthquake happened. We couldn't believe the way the elevated freeway was shimmying and the light poles swaying, but the road held firm. I had just returned one hour earlier on a flight from Sapporo. Just one hour difference and I'd be in some other city in Japan (maybe even back in Sapporo!), as the airports in the area shut down. The bus exited the freeway and took local roads to the bus station. It was clear when we arrived at the bus station that I could not make a connection to the train. Mobile phones were not working and the lines in front of the few public phones (landlines) were very long. Lines for the buses and taxes were longer, so I decided to walk home. I found a public phone on the way and called home, but Jan had gone to the school to get the boys! So we had about 4 hours of uncertainty while I made my way home. Our troubles are minor compared to what many in Japan are experiencing right now.

That's the situation right now. With each report on TV it seems to get worse. No doubt it will be a LONG time before the hardest hit areas return to any sense of normality. Entire sections of towns and cities will need to be rebuilt.

We are grateful for your prayers.