Podcast: Download (Duration: 2:17 — 989.3KB)
It doesn't take long to stroll from one end of the
Camas Farmers Market
to the other. There are larger, more established markets in Clark County you could visit, but before you make big plans for the larger Saturday markets, think about a Wednesday night adventure.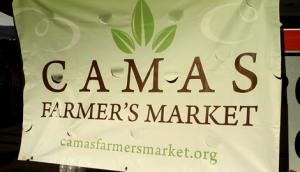 This small east county market densely packs the street with unique experiences. There is an abundance of fresh produce, as you would expect from your typical farmers market, but the Camas Farmers Market manages to give you just a little bit more.
As you enter the row of booths, you may find yourself lingering next to a European-style baker. Tables are piled high with rustic loaves of goodness. Keep an eye out for some pillowy, cream-filled pastries. They disappear fast.
Next door to the baker are newcomers to the market, Dan and Caroline Swansey. He is a former groundskeeper for the New England Patriots and she is originally from Belgium. They just started farming their property in Yacolt a few months ago, but already have an impressive display of greens and herbs to show for their efforts. Ask them how they plan to work with Lucy, their draft horse.
Further down the line you may encounter someone handing out samples of slow-roasted pulled pork. According to the purveyor, it takes 12 hours to achieve this barbeque perfection. Your tender sample will disappear in much less time. Order dinner here and then wash it down with a glass of fresh, ice-cold, basil-infused lemonade from just a few booths away.
Turn around now and watch a chef prepare a dish right before your eyes using market-bought produce. Enjoy the sample. Get the recipe. Purchase all the ingredients directly from the farmer who grew them.
This coming Wednesday, take the short walk that is the Camas Farmer's Market. Enjoy the great selection of food, but also take a few moments to savor the experience.
CREDITS
Video shot and edited by Miles Burnett
Audio by Evan Newman
---


Camas Farmer's Market
Located on 4th Ave. between Everett & Franklin
downtown Camas
May 25 to Sept. 28, 
Wednesdays 3 to 7:30pm
info@camasfarmersmarket.org
360.838.1032
View Larger Map