SPECIAL OFFER: Kathy Condon is appearing at Beacock Music for a booksigning Tuesday, Mar. 20. Leave a comment to be entered to win her latest book — take it to the book signing tomorrow!
Author Kathy Condon makes no apologies about being self-published. In fact, she's proud of it. Her first book, It Doesn't Hurt to Ask, was chosen by USA Book News as Best Book Award finalist in its business category.
This past summer, Condon released her second book,
Face-To-Face Networking, It's All About Communication
, and while the book could have been written a few years earlier, the marketplace was sidetracked with social media innovations – not interested in face-to-face concepts – and Condon held off.
In 2011, a chance to spend six weeks in Palm Springs gave her the dedicated time she needed to finish the book. The environment had also changed as she, like many others, discovered that social media is just "one spoke in the marketing wheel."

Audio interview with Author Kathy Condon.

Podcast: Download (Duration: 8:13 — 11.3MB)
Condon's book dovetails with her career as an executive coach. She helps executives focus on improving communication, the root of most business problems. "If you're a mid-level manager whom do you talk to?" she asks, and fills the gap for her clients with honest feedback and tools that advance careers.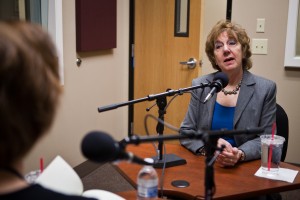 Condon also has a heart for the unemployed. She noticed that "95 percent of the unemployed people have no cards." She knew how to change that trend, but thought "calling card" sounded too old fashioned for today's vernacular. So she recommends carrying a contact card, a term that was coined during one of her workshops that take her across the Northwest.
An upcoming gig will find Condon training retiring military officers in the art of transitioning into the community after being overseas. She's been hired to teach the top brass at Fort Lewis how to mingle and connect with business people in social situations and perhaps to make connections that will help secure their next job.
Networking is a key component to finding your place," says Condon. "It is still remaining true that 85 percent of the jobs are gotten through networking."
She has countless stories of how being friendly and approachable has landed people their next position, and advises clients to be nice to everyone, even the people in line at the grocery store.
"You don't know. You are networking the minute you walk out your door," she says.
Condon is using social media to market her current book, but she feels nothing will replace the connection that is made with a firm handshake and looking the other person in the eye. You can meet her and do just that – learn the art of shaking hands – on Jan. 16 in the cafe at Beacock's Music from 5:30 to 8 p.m.
Kathy Condon has a book signing and will be joined by two other authors, Evernote Organization Ambassador Brandie Kajino who collaborated on the SMO Book series – small passport type books on Twitter, LinkedIn and blogs; and Victoria Trabosh, who paid tribute to her mother by folding her humor into a book called Dead Rita's Wisdom.
CREDITS
Audio captured and edited by Ed Stortro
---
Book Signing at Beacock Music.
Tuesday, March 20, 5:30 to 8 p.m.
1420 Southeast 163rd Ave., Vancouver
360-694-7134

Book Talk is new audio program from COUV.COM. It's a conversation about books and people who love them. Share your favorite books, authors and reading friends with us!