Podcast: Download (Duration: 6:29 — 5.9MB)
It all started with garlic at NW Organic Farm in Ridgefield.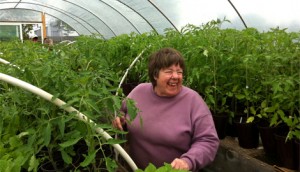 "But we soon learned you can't live on garlic," co-owner Joyce Haines says.
The farm that she and her husband operate now produces everything from garlic and lettuce to snap peas and more than 3,000 tomato plants. Haines says the farm is where customers go for fresh produce and where fresh means just a matter of hours between vine and table.
Sales have tripled at the farm in recent years as the Haines' have adopted a Consumer Supported Agriculture (CSA) model and now even accept food stamps. People who join the CSA pay a fee to support the farm at the beginning of the growing season, and then receive the benefit of fresh produce throughout the season.
For Haines, the farm is more than just growing produce, it's about community. She loves to invite customers on to her porch for a glass of tea and a helping of rich conversation.
NW Organic Farm can be reached through their website,
northwestorganicfarms.com
.
This September she and her husband will welcome people to their annual tomato and garlic festival where the public is invited to the farm for some taste testing and bluegrass music.
For more information on connecting with local farmers and growers, visit LocalHarvest.org.
CREDITS
Audio produced by Evan Newman
---

NW Organic Farm
17713 NW 61st Avenue
Ridgefield, WA 98642
360-573-4868.
View Larger Map