C-Tran is seeking public input regarding the proposed $78 million Bus Rapid Transit (BRT) line stretching along Fourth Plain Boulevard from Westfield Mall to downtown Vancouver.
The agency is hosting two public design workshops on Wednesday, Nov. 16, from 4 to 7 p.m. at Clark College's Gaiser Student Center; and Saturday, Nov. 19, from 9:30 a.m. to 12:30 p.m. at C-Tran's administration offices, located at 2425 NE 65th Ave. in Vancouver.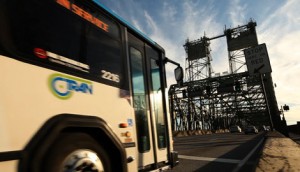 The C-Tran Board of Directors approved a number of options for incorporating BRT with existing vehicle traffic on Fourth Plain, as recommended by a  citizen corridor advisory committee.
The preferred options are for buses to either share the left lane and access BRT stations located in the median, share the right lane with regular traffic and use stations located curbside, or use a semi-exclusive Business Access and Transit (BAT) lane that would keep regular traffic in the left lane unless turning right into businesses.
The board also approved two additional "bus only" lanes for sections of Fort Vancouver Way, near Clark College, also with stations located in the median.
BRT uses articulated buses and stations with level boarding platforms and off-board ticket kiosks. C-Tran will look to the federal government to pick up 80 percent of the project and will then use a $15 million loan to pay the balance, assuming passage of a 0.1 percent sales tax increase for high capacity transit next year.
Per federal policy, C-Tran must also seek public input on non-BRT solutions, such as a "non build" option, as well as improving the efficiency of existing bus service.
During the Nov. 8 meeting, Vancouver Mayor Tim Leavitt asked how a BRT system would balance the needs of commuters passing through to downtown Vancouver or Portland and those staying within the corridor. According to C-Tran, the BRT line will replace the current local fixed routes #4 and #44.
"Are we talking about reducing travel time for the folks who are just getting from point A to point B within the corridor, or are we reducing travel time for the folks getting through the corridor to the mall or to downtown?" asked Leavitt.
C-Tran's Director of Development and Public Affairs, Scott Patterson, said there has been direct contact with most businesses on Fourth Plain and the agency has also been working with the Fourth Plain Merchants' Association. He said that even if BRT coaches travel in mixed traffic, the benefit of riders purchasing tickets before boarding and using level platforms will shorten stop times.
"There is a the perception that in order to get that travel time you need a fixed guideway, but you get travel time savings by having the fare box off board and those level boarding stations," said Patterson.
Leavitt then asked about the spacing between stations and if any efficiency will be lost because riders will face longer walks to their destinations, compared to current bus stops.
"There is a savings in travel time with the bus, and then there's the travel time on the individual who was using the bus and now is using the BRT," said Leavitt.
Patterson said the average distance between existing bus stops on the Fourth Plain corridor is a quarter of a mile, the same distance expected between BRT stations within most of the corridor. Farther east, stations might be placed as far as a third of a mile apart.
"You would see very few [existing] stops removed along the corridor itself," said Patterson.
Board member Tom Mielke expressed concern that BRT would effectively reduce service along Fourth Plain, inconveniencing riders with limited mobility. He was the lone "no" vote on the BRT options.
"I don't see how this concept is going to get there, to provide access," said Mielke.
C-Tran project manager Chuck Green said the purpose of the upcoming workshops is to dig down into the details of station location and design. He is hoping to have at least 30 citizens in attendance, but is preparing for up to 100.
---
BRT Meetings:
Wednesday, Nov. 16, 4:00–7:00 pm
Clark College's Gaiser Student Center
1933 Fort Vancouver Way
Vancouver 98663
Saturday, Nov. 19, 9:30 a.m. to 12:30 p.m.
C-Tran administration offices
2425 NE 65th Ave.
Vancouver 98668
---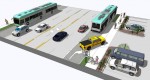 Read more on BRT options here: Citizen committee weighs BRT options