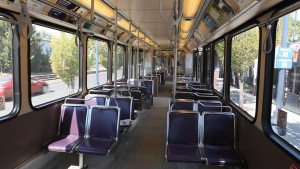 A citizen perspective by Margaret Tweet.
For the last few years, I've followed the proposed light rail extension from Portland to Vancouver via meetings by CTRAN, the Regional Transportation Council (RTC), the Washington Policy Center, the Cascade Policy Institute, city and county regular meetings, and town halls on transportation issues. Precious little discussion is held on the true transportation needs of our region by the government agencies that propose costly solutions. Instead of thoroughly examining present conditions, they seem to focus on rosy predictions for the future in 2030 and 2035, and the most costly transportation options possible such as light rail and bus rapid transit. CTRAN, RTC, and the contractors that will benefit have a dream, and they expect Clark County taxpayers and businesses to pay for it, like it or not. The CTRAN and RTC boards that oversee the transportation agencies include all 3 Clark County Commissioners and select city council representatives.
Vancouver Mayor Leavitt, who is on both the CTRAN and the RTC boards, has often declared that light rail is required on the proposed CRC I-5 bridge replacement. Recently, WADOT Director Paula Hammond clarified at the October CRC oversight committee meeting that light rail is a "political" requirement placed on the project by Oregon. It's not a necessary component of the proposed bridge and the committee chair clarified that if buses were the chosen transit alternative, some federal funds might likewise be available for buses as are hoped for with light rail, albeit far fewer dollars would be needed. Buses are the current public transportation across the bridge, and meet the demand by both express bus from Clark County to Portland and local service with stops along the way.
In the Tuesday Nov. 6 election, WA voters will vote on light rail via CTRAN proposition 1. The CTRAN proposition is to raise the Clark County sales tax to extend Portland's TriMet light rail 2.9 miles into Clark County and add costly $Million 60 foot bendable buses to the CTRAN fleet. If voters approve the High Capacity Transit taxing authority, the CTRAN long term plan is to extend light rail and 60 foot bendable buses in Clark County. The Expert Review Panel on the CRC and light rail warned that extending TriMet's light rail could "include C-TRAN inheriting at least some of the existing TriMet cost structure".
Tri Met Debt
Approximately $900,000,000 in debt exists on their balance sheet as of 2012 audit plus "more than $1.2 billion in unfunded actuarially accrued liabilities for promised retirement benefits."
Are light rail and larger bendable buses a need or a want? See Citizens' Guide to Clark County Proposition 1 (Vancouver Light Rail) by the Washington Policy Center. It includes this WPC chart that compares CTRAN's total ridership to CTRAN's annual operating expenses between 1996 and 2010.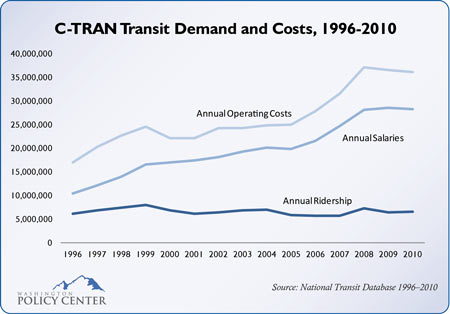 CTRAN bus ridership has remained relatively flat for over two decades in spite of population growth. Nevertheless, CTRAN is predicting a huge influx of transit riders by 2030. The rosy predictions are based on unrealistic job and employment growth going up every year and don't accurately reflect the extended struggling economy or future dips. The chart below is based on CRC and CTRAN data and CRC predictions about light rail and Express Bus over the Columbia River on I-5.

Rosy predictions for light rail ridership in higher density Seattle prior to light rail votes in 2006 and 2008 did not come true. At the town hall on Proposition 1, the WPC Transportation Director Michael Ennis explained that Clark County doesn't have the density to support the projected growth in ridership. He explained that fixed track light rail may be workable for very high population and density (above 10,000 people per square mile) where thousands of riders consistently travel to fixed destinations. In contrast, the population density for Clark county is about 677 people per sq mile. Currently, frequent bus service to the Delta Park Max light rail station in Oregon is offered, and is not typically full crossing the Columbia River.
The few commuters who use public transit to cross the bridge today does not indicate approximately $1 Billion to build light rail plus the many $Millions to operate it each year. Given the historical ridership of CTRAN, do the predictions for ridership growth seem realistic? High, never-ending bridge tolls would be required if the CRC light rail bridge is built, tolls estimated by the CRC at $8-16 round-trip in 2019 and increasing over time. The governors of Washington and Oregon have noted that tolls on the I-205 bridge have not been ruled out.
Furthermore, would it be realistic for riders to choose light rail to Portland that makes frequent stops and is slower than popular express bus service? In Oregon, express bus service has been eliminated if light rail is introduced. Indeed, in OR, TriMet bus routes and hours have been cut year after year since light rail rolled into the region. In spite of forming a bus riders union, the pleas of those who rely on buses for essentials like grocery shopping, medical and dental appointments, etc have been ignored. Meanwhile, costly light rail is extended into areas already well served by buses. Funds that could be used for roads for all, including buses, are diverted to light rail for a few. Signs dot the deteriorating Portland streets urging drivers to call the pothole hotline .
Another high cost component of Proposition 1 is three giant park and ride or garage facilities in Vancouver with 2900 parking spaces combined. The planned locations hoped for new riders are Columbia and Fifth streets, Washington and 15th streets, and near Clark College. Downtown Vancouver already loses over $1 Million annually on the debt the city has on overbuilt parking garages. Will transforming Vancouver into Portland's parking lot boost revitalization?
Buses are flexible in route and destination and better suited to the population, job base, and density of Clark County. Well maintained roads serve the whole county, buses, cars, freight, and service vehicles. The standard 40 foot buses are less costly to operate than the proposed 60 foot bendable buses that require extensive road and sidewalk modification to build raised platforms and place bus stops in the middle of the road. Ticket dispensers would also be built in to the larger bus stops, and riders would be on the honor system to purchase tickets before boarding, instead of showing a ticket or pass as is done today. Light Rail is proposed to replace four routes, the #4, #44 and the limited bus routes from Camas/Washougal and Battle Ground.
Citizen observations on bus routes #4 and #44, over 30 round trips, showed that service was timely, at or less than scheduled time. Although riders did stand at times, it was usually for a short distance and there was room for older or disabled riders to be seated. Riders were not rejected because the bus was full except for one with a walker who reportedly had to wait. Only one bike rider had to wait because the 2-bike rack was full. And it only took about 15 -30 seconds to load the bike into the rack on at least 25 loading/unloading's observed, not the 5 minutes CTRAN claimed when selling the "need" for  60 foot buses that would load the bikes inside the bus. In Seattle, some buses have 3-bike racks outside the bus. This simple upgrade is far more economical than paying $1 Million for larger buses with room for bikes inside. The proposed larger 60 foot buses are difficult to maneuver around, have been hazardous to pedestrians and bicyclists, waste fuel, and cause more pollution.
If needed, standard buses could be run more often at peak times or eventually larger buses used if they consistently run at capacity. Standard buses currently "kneel" lower to the curb to accommodate riders with mobility devices. Given the large sales tax increases for CTRAN bus and CVAN service in recent years, and the relatively few riders, it would be wise to be thankful for the generous bus and CVAN service already provided. Why spend funds we don't have for services we don't truly need? For details see http://prop1facts.com/ and http://www.prop1no.com/.