Podcast: Download (Duration: 29:44 — 40.8MB)
Eileen Qutub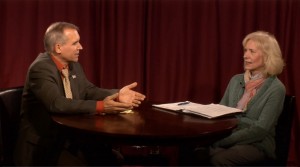 provided the following text for her interview:
Elected Experience: 1995-1997 elected to the Oregon House of Representatives and State Senate (1997-2001); increased funding for schools while requiring accountability & innovation; reduced taxes for middle class families and seniors; increased capacity & reduced congestion on our roads; named Toll Fellow by Council of State Governments.
Other Professional Experience: Small business owner, Executive Dir. of Charitable Trust, Real Estate Broker, Real Estate Appraiser.
Education: B.A. George Fox University, Newberg, OR (1998, Distinguished Alumnus of the year); Graduate, Battle Ground H.S., Battle Ground, WA
Community Service: Served on non-profit Boards (Portland Rescue Mission, PRC of Greater Portland, Metro Police Chaplaincy)
Statement: This is my home. I was raised in Vancouver . Today, I am deeply concerned with our state's financial stability, its relentless appetite for growth and disregard for the people's money. We need an environment that is friendly to small business growth in order to create jobs, so that all our families might prosper again. My first priority will be to find ways to attract new, well-paying jobs to our area. As I did in the Oregon Legislature, I will work to eliminate burdensome obstacles that are stifling job growth and holding people back. Lower taxes will help families and job growth alike.
I support full funding of education, and I want to see reforms that steer more money to kids at the classroom level, and foster academic excellence. Our children deserve a good education.
My six years in the Oregon legislature and current position on the Clark County Planning Commission have given me a wide breadth of experience with a reputation of being an independent thinker. It would be my greatest honor to now serve you and your family in the Washington State Senate. My door will always be open to you. I humbly ask for your vote.
For more information:
(360) 232-6709
---
COUV.COM has invited every candidate on Clark County ballots to share their views with voters in a free-flowing interview where candidates are free to talk about whatever they like.  In addition to that conversation, each candidate will wrap up each interview by speaking directly to voters as they see fit.
COUV.COM streams each interview live, including live audio before and after each interview so listeners can hear our pre-interview and post-interview conversations. It's our way of being transparent and welcoming open unfiltered access behind the scenes.
Although our invitation was extended to all candidates, some accepted and some declined.  If they do not appear on COUV.COM by October 15, it is because they declined to participate.
COUV.COM can publish submitted text from each candidate that participates.  However, we will not include text that talks negatively about another candidate.  We encourage positive issues-oriented messages.