We were led to believe that the Coast Guard failed to inform the Columbia River Crossing that the 95 bridge height was unacceptable. We were told the Coast Guard just now changed their mind and that they were negligent to not inform the CRC long ago of the disastrous mistake that will cost taxpayers hundreds of million more in "studies" to go back to the drawing board again.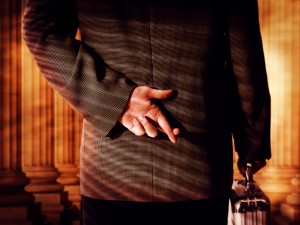 According to a recent Columbian blog post, it turns out that the CRC and Mayor Tim Leavitt was well aware of the failure to comply before the Record of Decision (ROD) was obtained last year.
"Obviously, the CRC staff and the Coast Guard knew what was up, but the CRC had also been quietly informing those "in the know" about the problem. A Vancouver city official was among them. So was Mayor Tim Leavitt," writes Andrea Damewood.
The attached letter, dated Dec. 7, 2011, from the Coast Guard to Deputy Secretary of Transportation John D. Porcari, is one of evidence that reveals the truth.
Don't we deserve to know the truth?
Download PDF of Coast Guard letter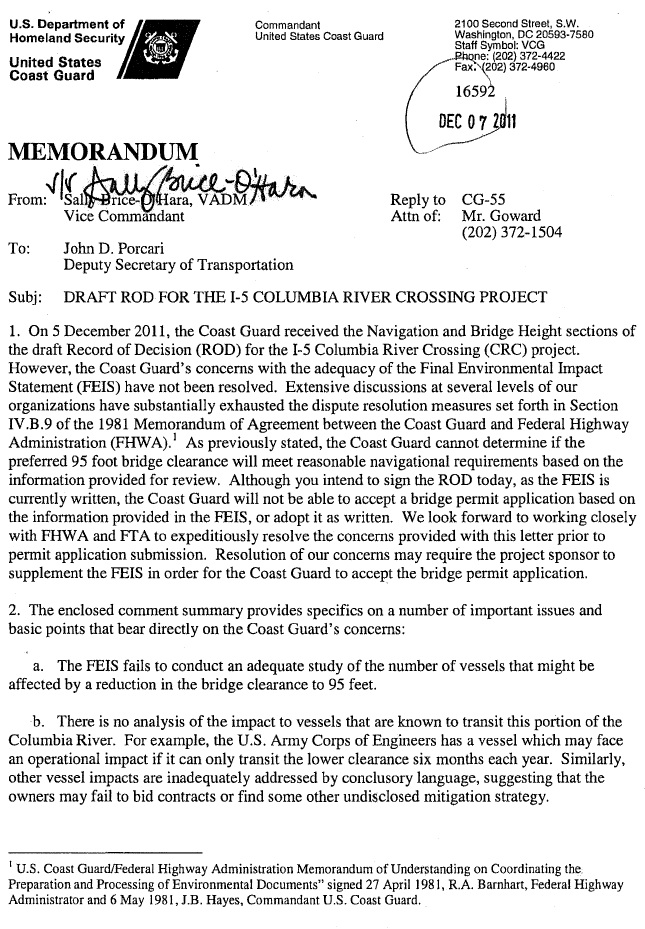 Below are regulations relating to obstruction of navigable waterways in the United States.
Obstruction of Navigation
33 USC § 512 – Obstruction of navigation
'No bridge shall at any time unreasonably obstruct the free navigation of any navigable waters of the United States.'
http://www.law.cornell.edu/uscode/text/33/512
Whenever any bridge shall, in the opinion of the Secretary, at any time unreasonably obstruct such navigation, it shall be the duty of the Secretary, after notice to interested parties, to hold a hearing at which the bridge owner, those interested in water navigation thereunder or therethrough, those interested in either railroad or highway traffic thereover, and any other party or parties in interest shall have full opportunity to offer evidence and be heard as to whether any alteration of such bridge is needed, and if so what alterations are needed, having due regard to the necessity of free and unobstructed water navigation and to the necessities of the rail or highway traffic. If, upon such hearing, the Secretary determines that any alterations of such bridge are necessary in order to render navigation through or under it reasonably free, easy, and unobstructed, having due regard also for the necessities of rail or highway traffic thereover, he shall so find and shall issue and cause to be served upon interested parties an order requiring such alterations of such bridge as he finds to be reasonably necessary for the purposes of navigation."
---
Got an anonymous tip? Share your tip at 360-816-1426. We'll have it checked out.