Podcast: Download (Duration: 1:21:37 — 46.7MB)
Architect Kevin Peterson stopped by COUV.COM to share his transit and transportation planning knowledge in the latest episode of Clark County Today.
Peterson has more than 30 years of experience that includes work on transportation projects the world over, including design and consultation on at least a half-dozen bridge projects and numerous rail transit systems.
Locally, Peterson has played a role in the Seattle Sound Transit project, the Downtown Olympia Transit Center, the Westside Corridor Project in Portland and the Pierce Transit Centers in Tacoma.
During his examination, Peterson noticed a discrepancy between the airplane glide slope criteria from Pearson Airport used in the bridge plans and the criteria used in more common downtown Vancouver construction projects [to see a COUV.COM profile of Pearson Airport click here].  A glide slope is how much lateral distance is needed for every vertical foot of space an airplane needs to land or take-off. Construction of new buildings or infrastructure cannot interfere with that air space.
The bridge plans called for a 1- to 34-foot ratio glide slope, while the more common downtown glide slope calculation is a 1- to 20-foot ratio, according to Peterson.
These ratios determine how tall structures can be without disrupting air traffic at Pearson field. The 1- to 34-foot ratio is the most restrictive of the two ratios. Bridge planners also have a ground level restriction to ensure that any bridge plan leaves enough space for trains to pass below on the existing railroad tracks that the new bridge is slated to be built above.
The situation, based on the current 1- to 34-foot glide slope ratio included in the bridge plan, created a narrow window within which a new bridge could be positioned as not to interfere with Pearson air traffic above or railroad traffic below.
The bridge plan's ratio glide slope made a stacked bridge design impossible to fit within the cleared space, but if the ratio was too conservative then planners could use the standard 1- to 20-foot glide slope ratio which makes a stacked bridge design possible.
That realization led Peterson to conclude that there is a simpler way to build a new I-5 bridge both with a lower cost and a more elegant design. He suggests a two-level straight aligned bridge with dedicated interstate traffic on the upper level and more local shore-to-shore traffic on the lower level – something Peterson calls a collector/distributor model.
With the current project proposal*, Peterson said the design is based in a freeway-only mentality, but a stacked bridge option with a collector/distributor mentality would not only satisfy the freeway needs, but also assist local traffic needs.
Above all, Peterson said the replacement of the I-5 bridge system is an important opportunity to create a transportation platform that future generations can manipulate to meet their needs – something he sees best accomplished with a straight-aligned stacked bridge design.
---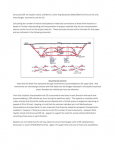 Peterson's report on collector/distributors:
"How a collector distributor might work" PDF: Download (1.6MB)
A shorter version of the video interview:
* The well-documented cost to taxpayers, if the CRC stays on budget, is $10 billion. This was established by the Cortright Report (PDF) which used data from an independent review panel hired by the governors of Washington and Oregon. (View the panel's final report.)
---
See our continuing coverage of the Columbia River Crossing Light Rail project.
Do you have information to share on the CRC? To respond anonymously call 260-816-1426. To allow your comments to be used on COUV.COM call 260-816-1429.