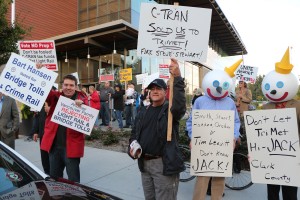 Over 200 hundred people showed up for the C-Tran Board of Directors meeting to cry foul over violating a commitment to voters by signing a contract with Oregon TriMet on Tuesday, October 8th. Protesters wielding signs stating, "C-Tran sold us to TriMet!" and "Don't let TriMet hijack Clark County" expressed their outrage over the betrayal. The controversial contract gave TriMet eminent domain authority to take any Vancouver properties they wished without the possibility of relief, a move that violates property owners' Constitutional rights. The project also gives Oregon exclusive unilateral control over I-5 Bridge tolls and exposes Clark County citizens to taxation without representation.
Wanting their voices heard, over 30 people signed in to speak directly to the Board. Sharron Nasset began her comments by stating, "I think the record needs to point out that the room is full. There are at least 50 people standing here. Out in the hallway, there are several others, and outside it is packed. I would say over 250 people out there – easily."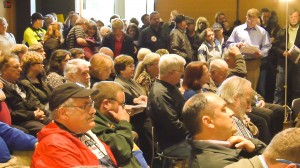 The majority of comments strongly opposed to a board action that allowed C-Tran CEO Jeff Hamm and legal consultant Tom Wolfendale to sign a binding contract with Oregon TriMet without revealing it to the board first. Wolfendale added a clause that obligates C-Tran to a $5 million automatic liquidated damages judgment to be paid to TriMet within 30 days if the Board voted to repeal the contract.
After citizen communication input, the board discussed a resolution introduced by Commissioner Madore regarding C-Tran's policy making authority that was violated since it cannot be legally delegated to others who are not accountable to the people.
Commissioner Madore asked if any C-Tran board members saw the contract before it was signed. None had. He asked why there was no termination clause. Madore's resolution to repeal the contract, was brought to a vote and failed. Commissioner Stuart immediately moved for adjournment and the meeting was ended before Madore could address questions to the staff and Board about the contract. That opportunity was promised by the Board earlier in the meeting.
C-Tran Board members who handed C-Tran control to TriMet included Vancouver Mayor Tim Leavitt, Vancouver City Council members Larry Smith and Bart Hansen, County Commissioner Steve Stuart and Ridgefield Mayor Ron Onslow.
View highlights of Citizen Communication below.
View the full C-Tran/TriMet discussion below.
View the C-Tran/Tri-Met contract