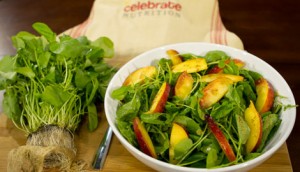 Watercress, like most dark leafy greens, is one of the most nutrient-rich foods on the planet with its potent disease preventative compounds.  It can be found in most natural markets which feature healthier greens and is usually sold still containing its roots in a tight bunch to keep it maximally fresh.
Much like arugula and other spicy greens, some may find watercress' peppery flavor unpalatable at first.  Here is the secret to enjoying both the health benefits as well as the taste:  add a sweet fruit to the greens in a salad!  My watercress and sweet peach salad is a tantalizing summer treat which tones down the spice of the greens while also highlighting the sweetness of a juicy fruit.
Purchase watercress today for a simple, new culinary adventure and check out my Creamy Sunflower Dressing video recipe for the perfect complimentary treat to top it off!
3 c. watercress
3 c. spinach
2 yellow peaches
Wash and de-stem watercress.  Add it to spinach in a large bowl.  Slice fresh, ripened peaches and toss with the greens.  Serve with Leanne's Creamy Sunflower Salad Dressing.
Yield:  Serves 6
Recipe©Leanne Ernster, 2011.
CelebrateNutrition.com
Shopping List:
3 c. watercress, organic, de-stemmed
3 c. spinach, organic
2 yellow peaches, ripened, sliced/diced
Tips:
Swap the watercress for other greens such as arugula, bok choy, or lacinato kale.  Sprinkle chopped nuts, sliced red onion, lemon juice, ground pepper, or add a different fruit combination such as watermelon or strawberries with a balsamic dressing.
Click below to print: