Our culture today is largely familiarized with the light and filling Mediterranean garbanzo bean dip known as hummus.  Still, fewer people have delved into the adventures of making hummus with the wide variety of legumes available to us.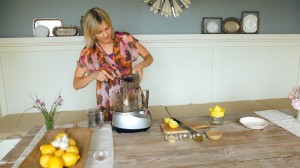 Lentils score at number one on the list of the top ten most nutrient-rich legumes, which makes them a particularly valuable addition to include in our everyday diet.  It is for this reason that I came up with a hummus recipe which utilizes lentils, although any variety of legumes such as cannellini, fava, black, or edamame legumes are all superb options.  Quick and easy to prepare, lentils are a leader in the pack of legumes with exceptionally high amount of soluble and insoluble fiber, folate, and magnesium.
Sprouting legumes exponentially increases their nutrient content so much so that the sprout itself contains even more nutrients than the rest of the legume from which the sprout grows.  While unsprouted (cooked) legumes may be used in this recipe, I challenge you to venture out of your comfort zone by trying something new as a gift to your health and belly!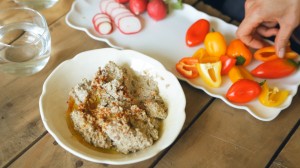 1/4 c. lemon juice
1 c. lentils, sprouted -or- cooked
1/2 c. raw tahini (sesame paste)
2 Tbsp. extra virgin olive oil, organic
1 tsp. ground cumin
3 Tbsp. garlic, minced
season to taste with tamari soy sauce or sea salt
Add in Options:  Fresh basil, toasted sesame seeds, turmeric, avocado, sweet potato, sunflower seeds, a handful of fresh spinach or kale, minced celery, or miso paste.
Purée all ingredients in a food processor until smooth.  Garnish with optional toppings:  cilantro, paprika, cayenne, sliced green onion, extra olive oil, etc.  Refrigerate for up to 1 week.
Yield:  6 servings
Recipe©Leanne Ernster, 2011.
Shopping List:
1 lemon
1 c. lentils, sprouted -or- cooked  (red makes a nice color, unsprouted may also be used)
1 jar raw tahini
extra virgin olive oil, organic
ground cumin
1 clove garlic
tamari soy sauce (or sea salt to season)
Tips: Think outside the can!  The rewards of cooking dried legumes from scratch are numerous!  They are 1/10th as expensive as canned, more flavorful, firmer, and place you in control of the sodium levels.  Many varieties of legumes gain numerous benefits when they are soaked about 8 hours (or overnight) before cooking them such as increased digestibility, greater nutrient absorption, and a shorter cooking requirement.  Lentils, black-eyed peas, dals, split peas, and pigeon peas can be cooked immediately without much advantage for soaking.
Take advantage of legumes' versatile uses by regularly cooking a large pot to have on hand during the week for fast meals like salads, dips, and soups or to freeze in quart-sized bags to have ready at future occasions.
*This recipe is one of Leanne's featured videos on her celebrate nutrition healthy cooking video series!
Watch this video and others at:  http://couv.com/lifestyles/health
Click below to print: