Podcast: Download (Duration: 1:42 — 1.9MB)
The first Veterans Day celebration occurred on
Nov. 11, 1919
to honor the end of fighting in World War I. Known as Armistice Day, warring countries agreed to a cease-fire "on the eleventh day of the eleventh month at the eleventh hour." Europe and the British Commonwealth still encourage its citizens to take a two-minute moment of silence at 11 a.m. every Nov. 11.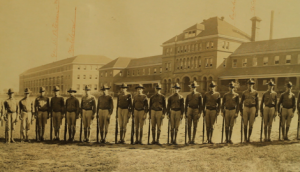 Jerry Keen, chairman of the
Clark County Veterans Assistance Center
(CCVAC), says, "Clark County is the most veteran-friendly community that I've ever seen." There is no greater demonstration of this than how local businesses and the community orchestrate one of the largest
Veterans Day parades
on the West Coast every year. This year's parade took place Nov. 5.
For Keen, celebrating Veterans Day means having "an opportunity to honor all the younger veterans." As chaplain for the parade he says, "It is just a special thing to me."
The CCVAC also partnered with a few local businesses, giving Keen the opportunity to accompany 30 veterans to Moppin to hunt and fish. "It allowed [the veterans] to relax, be themselves and get a couple of good nights' sleep."
As in years past, Vancouver celebrated all week long, providing free dinners and luncheons for veterans at the Elks Lodge and American Legion Post 14. This gives veterans an opportunity to "go out and not only be in the community and be recognized but also have a good time and probably gain a few pounds," says Keen.
Veteran Robert L. Nichols said, "Those that do choose to [serve] should be honored for it."
Keen added, "We live in the greatest country in the world."
If you would like to volunteer in your community and beyond, or help with veterans that are returning home, please visit the Department of Veteran's Affairs website.