For the full story, watch part 1 above (By Jordan Thompson)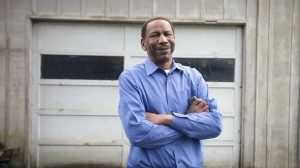 How did Christopher Driggins of Vancouver earn the nickname, "Birdman"? Living with more than 30 exotic pet birds probably has something to do with it.
"I won't discriminate against a feather," said Driggins. He spends his free time helping orphaned pet birds in Vancouver while working two jobs unrelated to bird rescue.
"It is true, I've had to make a few sacrifices in my life. Thus, I've always been single…almost married twice. I have 32 "kids" at home at this moment that need me," said Driggins.
Birdman's specialty is orphaned exotic pet birds. Owners often don't realize the lifelong commitment an exotic bird requires. On average, domesticated exotic birds can change hands 8 times in their lifetime.
Once the bird is completely rehabilitated, Driggins carefully finds an owner who fully understands the responsibility and commitment it takes to properly care for an exotic bird.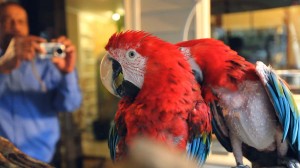 Driggins also fields injured bird calls 24 hours a day via his bird hotline. He's visited nearly every corner of Clark County helping hawks, owls, blue herons – you name it. Driggins rehabilitates birds at his Vancouver sanctuary which also doubles as his home. He's been doing bird rescue since 1988, making quite the name for himself. Local police and fire often rely on Birdman's expertise in emergencies.
Recently he received a call from the Coroner's office for urgent assistance. Animal control was in a standoff with a pet bird guarding an owner who had recently passed away. Chris swept in and quickly diffused the situation.
Chris created Northwest Bird Rescue, a not for profit business that relies heavily on volunteers to keep it running. He posts his adventures regularly on his Facebook and YouTube channel.
If you see his gold Town & Country van rolling around Vancouver with the yellow emergency light and bright yellow decals reading "CAUTION, INJURED BIRD ONBOARD," be sure to smile and wave – he's doing great things for our community.
Birdman part 2 (By Cathy Ecalbarger)