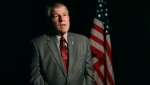 Vancouver City Council member and U.S. Army veteran Larry Smith talks about Memorial Day 2011 at the Vancouver Barracks.
Smith is a member of the Community Military Appreciation Committee (CMAC), which plans and organizes community-wide events to honor local veterans. Military holidays the group highlights include Memorial Day, Veterans Day, and POW/MIA Day.
CMAC also offers support services for military families and focuses resources that pertain to the well-being of veterans and their families. The committee is comprised of civic education, veteran and business partners.
This year's CMAC ceremony will take place Monday from 10 a.m. to 1 p.m. at the Clark County Veterans War Memorial. It will honor three Clark County service members who died this last year in Iraq and Afghanistan.