Your Vote does count!
Clark County votes on August 7th!  If you haven't sent in your ballot yet we would like to give you the opportunity to get to know the candidates running for office in Clark County.
After completing your ballot be sure to seal the envelope and put a first class stamp (45¢) on the envelope and mail it so it is postmarked no later than August 7 for your votes to be counted.  If you want to drop your ballot off at a drop off site page 4 of the voter's guide will give you the locations.
We invited all the candidates to the studios of COUV.Com to discuss their race and the issues surrounding the election.  Some were not available to take part.  You can get more information from the Voters Pamphlet on all the candidates and issues.
http://www.clark.wa.gov/elections/documents/2012/August201207/2012_VotersPamphlet_Aug_7.pdf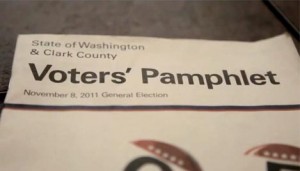 Take the time to listen to the following debates:
Clark County Commissioner District 2
Clark County Public Utilities Commission
This is your opportunity to let your voice be heard: Your Government; Your Candidates; Your Vote.